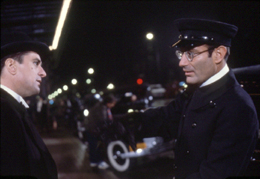 Il 18 maggio 2012 al
Festival di Cannes l'extended version del capolavoro di Sergio Leone "C'era una Volta in America"
. Sei i blocchi di scene ritrovate e reinserite esattamente dove furono tagliate. Dal dialogo tra
Robert De Niro
e
Louise Fletcher
(che riappare finalmente nel film) alla scena in cui Deborah interpreta Cleopatra a teatro.
Si avvicina la prima mondiale al
Festival di Cannes
del nuovo restauro (finanziato da Gucci e The Film Foundation di Martin Scorsese e realizzato dalla Cineteca di Bologna al laboratorio L'Immagine Ritrovata in collaborazione con Andrea Leone Film, The Film Foundation e Regency Enterprises) del capolavoro di Sergio Leone, e cresce la curiosità attorno a quei 26 minuti in più di questa extended version.
Sei i blocchi di scene – appartenenti alle diverse epoche nelle quali il film è ambientato – reinseriti nella nuova versione che raggiunge ora la durata di 4 ore e 19 minuti
:
1) dialogo tra Noodles, interpretato da Robert De Niro, e la direttrice del cimitero, interpretata da Louise Fletcher (scena ambientata nel 1968);
2) sequenza muta in cui l'auto con Noodles e Max (interpretato da James Woods) affonda e l'ansia dei compagni che non vedono riemergere Noodles (1933);
3) il produttore del film Arnon Milchan nei panni dello chauffeur dialoga con Noodles (1933);
4) scena d'amore (a pagamento) tra Noodles e Eve, interpretata da Darlenne Fluegel (1933);
5) Deborah, interpretata da Elizabeth McGovern, interpreta la Cleopatra shakespeariana a teatro (1968);
6) Il senatore Bailey (nuova identità di Max), interpretato da Woods, ha un colloquio nel suo studio privato con il sindacalista protagonista in passato di un "salvataggio" da parte della banda di Noodles e Max (1968).
Ridotto dallo stesso
Sergio Leone
per la prima al
Festival di Cannes
nel 1984 e per il mercato europeo a 3 ore e 49 minuti, C'era una volta in America venne ulteriormente tagliato – per l'uscita sul mercato statunitense – a 2 ore e 19 minuti.
La
Cineteca di Bologna
ha lavorato con la famiglia Leone, storici del cinema, e la troupe originaria (il co-sceneggiatore Franco Ferrini, il produttore esecutivo Claudio Mancini, i montatori Patrizia Ceresani e Alessandro Baragli, il montatore del suono Fausto Ancillai) per recuperare e reinserire i 26 minuti di materiali aggiuntivi dove Leone li aveva pensati, utilizzando la sceneggiatura originale e i fotogrammi in testa e in coda delle scene tagliate per identificare esattamente il luogo da cui erano state eliminate.
La prima italiana della nuova extended version di "
C'era una volta in America
" verrà presentata venerdì 22 giugno in Piazza Maggiore a Bologna, come anteprima del
Festival Il Cinema Ritrovato
, promosso dalla Cineteca di Bologna dal 23 al 30 giugno 2012.