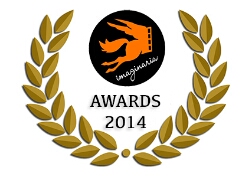 La giuria composta da Alessandro RakEmiliano PonziGiuseppe Palumbo ha decretato i seguenti vincitori della 12ª edizione di Imaginaria Awards:
Premio Migliore Film d'Animazione
Bang Bang!
di Julien Bisaro, Francia, 2014, 12'
Motivazione: Per la raffinatezza stilistica, l'impeccabilità registica, la perfezione formale mai fine a se stessa, anzi misurata su ogni singolo aspetto di una sceneggiatura intrigante e avvincente.
Menzioni Speciali
Hasta Santiago
 di Mauro Carraro, Svizzera, 2013, 12'45"
Motivazione: Per lo splendido uso illustrativo del 3D, per il gusto e la varietà delle soluzioni visive e narrative, per la genuinità della storia.
The sense of touch
 di Jean-Charles Mbotti Malolo, Francia, 2014, 14'31"
Motivazione: Per la qualità del segno e del disegno, sia nella descrizione dei personaggi che nelle atmosfere e nelle scenografie. Per la capacità di descrivere i rapporti attraverso sguardi e gesti.