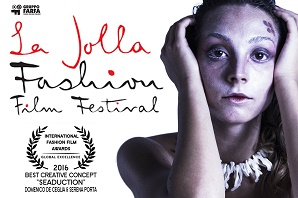 Seaduction: the Tale of the Tail
il Fashion Film 100% made in Puglia vince come Best Creative Concept all'International FFF La Jolla a San Diego in California.
Il festival definito Cannes dei Fashion Film è l'evento mondiale dedicato all'arte del Cinema che incontra l'industria della Moda.
Seaduction: the Tale of the Tail
di Domenico de Ceglia e Serena Porta è nato dallo studio del genere del fashion film come nuovo orizzonte creativo fatto di collaborazioni e sperimentazione. L'idea dello short-movie è di parlare della sostenibilità rilanciando l'immagine del mare come risorsa culturale, sociale ed economica utilizzando i sempre variabili, ma contemporanei, strumenti della comunicazione e del marketing. Da qui l'incontro tra Domenico de Ceglia, regista impegnato da alcuni anni a portare avanti un'idea sociale e critica di Cinema, e Serena Porta, esperta di moda e comunicazione.
Seaduction: the Tale of the Tail
denuncia la crisi della pesca che sta attraversando la città costiera di Molfetta legata allo sfruttamento indiscriminato delle risorse marine e l' incubo degli ordigni bellici all'iprite, bombe chimiche, lasciate nei nostri mari dopo la Seconda guerra mondiale i cui involucri metallici si stanno erodendo. Seaduction, denuncia questa realtà non raccontandola ma attraverso la messa in scena di una vendetta fantasy-pulp in un tempo ucronico.
Questo è il concept che vince l'award come Best Creative Concept della settima edizione di LaJolla International Fashion Film Festival.
Seaduction: the Tale of the Tail è stato selezionato e ha partecipato al 17' Festival del Cinema Europeo di Lecce, al 67' Valdarno Cinema Fedic, nello Short Film Corner del Festival di Cannes 2016, al Social Machinery Film Festival di Mantova ed è stato candidato all'International Premiere al La Jolla International Fashion Film Festival con 7 nomination. Prossimo screening ad Agosto per la 17ed. del Lucania Film Festival.