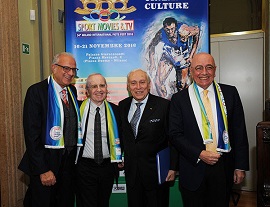 Presentato ufficialmente alla stampa dal Presidente della FICTS Prof. Franco Ascani (IOC Member for "Culture and Olympic Heritage Commission") il Cartellone di "
SPORT MOVIES & TV 2016 – 34th Milano International FICTS Fest
" Finale di 16 Festival (nei 5 Continenti) del "
World FICTS Challenge
" Campionato Mondiale della Televisione, del Cinema, della Cultura e della Comunicazione sportiva in programma a Milano dal 16 al 21 Novembre nell'"Anno Olimpico 2016".
Il Festival - all'insegna dello slogan "
FICTS Is Culture through sport
" - č organizzato dalla FICTS - Federation Internationale Cinema Television Sportifs a cui aderiscono 116 Nazioni riconosciuta dal Comitato Internazionale Olimpico per il quale promuove i valori dello sport attraverso le immagini.
Ruud Gullit, Frank Rijkaard e Marco Van Basten, storico "Trio Olandese" dell'AC Milan insieme allo storico capitano Franco Baresi e ad Arrigo Sacchi che condusse il club rossonero a una lunga serie di vittorie internazionali negli anni '80/'90 (uno scudetto, una Supercoppa Italiana, 2 Coppe dei Campioni, 2 Supercoppe Europee e 2 Intercontinentali), saranno tra gli "Ospiti d'Onore" alla "Cerimonia di Inaugurazione" in programma mercoledě 16 novembre 2016 (ore 18) presso il seicentesco Palazzo Giureconsulti, nel cuore della cittŕ di Milano (Piazza Mercanti, 2 - Piazza Duomo) che sarŕ il "Core business" dell'evento (ingresso ad inviti.
Alla Cerimonia interverranno, tra gli altri: l'artista greca di arti visive di fama internazionale Mina Papatheodorou-Valyraki "IOC Sports Artist of the Year 2014", presenterŕ la Mostra d'arte dedicata allo sport intitolata "Arte in Movimento" sponsorizzata dalla "Ethniki Insurance Company", Simone Moro, unico alpinista nella storia ad aver scalato in prima invernale quattro "ottomila", Apichatpong Weerasethakul, regista indipendente thailandese vincitore della Palma d'Oro a Cannes.
Il Palazzo Giureconsulti ospiterŕ: 145 Proiezioni selezionate tra 73 Nazioni (tra cui 30 Anteprime mondiali ed europee in 5 Sale di proiezione contemporaneamente), 6 Mostre, 8 Meeting, 2 Workshop, 2 Conferenze Stampa, 7 Eventi Collaterali di sport e cultura, 23 Premiazioni di ospiti internazionali. L'evento č organizzato con la collaborazione di BMW Milano e di Sergio Bonelli Editore fondatore della omonima casa editrice leader del mercato del fumetto in occasione dei 30 anni di "Dylan Dog".