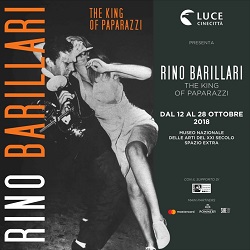 Si è conclusa al Maxxi di Roma la presentazione della Mostra "
Rino Barillari – The King of Paparazzi
", un emozionante percorso che ha consentito al pubblico di scoprire le tante sfaccettature della lunghissima carriera del "re dei Paparazzi", noto per i suoi scatti della Dolce Vita romana ma meno conosciuto per la vastissima produzione che ritrae Roma e i protagonisti della cronaca dagli anni '60 in avanti. L'istallazione, curata da Martino Crespi, fa parte del progetto ideato da Massimo Spano e Giancarlo Scarchilli, prodotto da Istituto Luce Cinecittà con il contributo della Direzione Generale Cinema del Ministero dei Beni e delle Attività Culturali, con il contributo di Mastercard e Champagne Pommery. Media Sponsor Il Messaggero di Roma, Sponsor istituzionale SIAE.
Per l'inaugurazione si sono riunite al Maxxi di Roma personalità del mondo istituzionale, culturale e del cinema della capitale, accolti dal Presidente e amministratore Generale di Istituto Luce Cinecittà, Roberto Cicutto.
Tra i presenti Gianni Letta, Azzurra Caltagirone, Carlo Verdone, Beppe Fiorello, Pif, Tosca D'Aquino, Alessandro Haber, Lina Sastri, Mita Medici, Amedeo Goria, Massimo Dapporto, Yvonne Sciò, Valentina D'Agostino, Simona Borioni, Livia Azzariti, Cristina Pedersoli, Elisabetta Ferracini, Veronica Pesci, a sorpresa è apparso anche Matteo Salvini.
Durante la serata è stato presentato il volume edito da istituto Luce Cinecittà e Edizioni Sabinae con le prefazioni di Irene Bignardi e Oliviero Toscani da Laura Delli Colli, vicepresidente della Fondazione Cinema per Roma e Presidente del SNGCI. L'attore Ennio Coltorti ha introdotto al pubblico due brani significativi.
In anteprima, è stata inoltre presentata una clip del documentario "
Rino Barillari - The King of Paparazzi – la vera Storia
" prodotto da Istituto Luce Cinecittà e da Michelangelo Film, che verrà programmata all'interno della sezione Riflessi della Festa del Cinema di Roma, sabato 27 Ottobre alle ore 21:30, proprio qui nell'auditorium del Maxxi. Il documentario contiene testimonianze di vari protagonisti della scena culturale italiana: Giuseppe Tornatore, Carlo Verdone, Giuliano Montaldo, Walter Veltroni, Giancarlo De Cataldo, Bruno Vespa, Valerio Caprara, Enrico Lucherini, il giudice Antonio Marini, Andrea Andermann e Filippo Ceccarelli. La colonna sonora originale è di Andrea Guerra, per Bixio S.a.m.
Rino Barillari
, visibilmente commosso, ha commentato: "
sono emozionato per la mostra, la mia vita è sempre stata stare sul pezzo e questo alla fine paga
".
Gli ideatori
Massimo Spano
e
Giancarlo Scarchilli
hanno detto "
siamo contentissimi del risultato della mostra dell'affluenza alla serata e dell'emozione che sia il libro che la mostra hanno trasmesso a tutti i presenti. Questo percorso si compirà con la proiezione del film alla Festa del Cinema di Roma
".