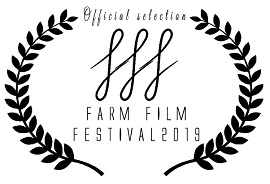 Questi i finalisti della quarta del
Farm Film Festival
di Favara (AG):
Categoria SHORTFARM – Corti a tema libero
– L'uomo che uccise James Bond – di Francesco Guarnori
– Angel's Mirror – di Cheng Chao
– The wind phone – di Kristen Gerweck
– Weekend – di Mario Porfito
– Apri le labbra – di Eleonora Ivone
– Dove vai – di Eugenio Forconi
– F**k different – di David Barbieri
– La gita – di Salvatore Allocca
– Si sospetta il movente passionale con l'aggravante dei futili motivi – di Cosimo Alemà
– The sea swells – di Amir Gholami
– U muschittìeri – di Vito Palumbo
– Il mondiale in piazza – di Vito Palmieri
– Parru pi tia – di Giuseppe Carleo
– La notte prima – di Annamaria Liguori
– Vivi la vita – di Valerio Manisi
– Burqa City – di Fabrice Bracq
– All these creatures – di Charles Williams
– Are you volleyball? – di Mohammad Bakhshi
– Une nuit – di Guillaume Caramelle
– Under mom's skirt – Sarah Heitz de Chabaneix
Categoria DOCUFARM – Documentari

– We want our future – di Atom Saskal
– Milady – di Giulia Tivelli
– My Tyson – di Claudio Casale
– Dreaming Folk – di Alessandro Stevanon
Categoria Countless Cities – corti a tema Farm Cultural Park
– The traffic separating device – di Johan Palmgren
– Deep rots – di Luc Godonou Dossou
– Cuban Canvas – di Kavery Kaul
– Giuseppe Magi – A century long story of emigration and dreams – di Francesco Tomei
Categoria FarmAnimation – Corti di Animazione
– Corkscrewed – di Massimo Ottoni
– A day in the park – di Diego Porral Soldevilla
– Inanimate – di Lucia Bulgheroni
– Like and follow – di Tobias Schlage
– Sacreès nonnes – di A. Beddiaf, E. Bellin du Coteau, L. Fillon, P. Lemonnier, Z. Mekideche, L. Mouraud, A. Roy
– Un amour deux bêtes – di J. Amory, P. Baroukh, J. Constantin, W. Liu, T. Stive, L. Vilquin
– Souffle court – Pierre-Marie Adnet, Jean-Luc Dessertaine, G. Pochez, T. Poulain, V. Rouziere, A. Vergonnier
– Dumbtime – di N. Brahim, K. Buno, S. Desnoyelles, S. Lombardo, A. Mimoz
– Angry signal – di J. Cortes, H. Delcroix, E. Gaufillier, M. Jabinet, L. Julies-Gaston, B. Leron, M. Peyrondet, S. Ploidori.
– Rewind – di F. Bamas, L. Charamond, A. Dodane, M. Doherty, M. Girard, F. Peltier
Categoria Farmclip – Videoclip
– Italy & (This is) Water – di Ioan Gavriel & Anja Franziska Plaschg
– The Heart and The Void – A House by the sea – di Daniele De Muro
– Ego – Saette – di Ettore Mengozzi
– La turista e il gondoliere – Jole Virgilio – di Valerio Matteu
– Kaatunga – di Philippe Grenier
I concorrono per il premio di ogni categoria, dei premi "Farm Cultural Park" e dei premi come Miglior Regia, Miglior Fotografia, Miglior Attore e Miglior Attrice, Miglior Colonna Sonora, Miglior Montaggio, Miglior Sceneggiatura.
L'evento si svolgerà a FARM CULTURAL PARK dal 29 Agosto all'1 Settembre 2019.

27/07/2019, 12:49
Simone Pinchiorri