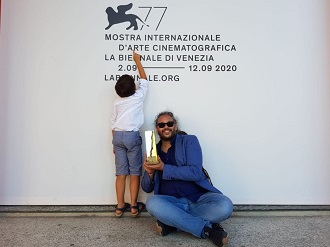 Doppietta in casa
Emera Film
: due dei film distribuiti da questa giovane quanto agguerrita casa di Distribuzione e Promozione del Cinema Indipendente si sono aggiudicati il
Log To Green Movie Award 2020
, il Premio dedicato alla promozione dell'impegno ambientale, ma anche sociale, nella Settima Arte che si è svolto sabato 12 settembre nella cornice della 77° Mostra del Cinema di Venezia. Si è aggiudicato il Premio Miglior Regista Emergente Renato Giugliano con il suo La Guerra a Cuba, film sugli attualissimi temi di intolleranza e fake news; il Premio al Miglior Produttore è andato a Federico Massa, uno dei produttori de Il Cercatore di Infinito il documentario dedicato all'avventura sportiva e spirituale di Armando Aste. Per entrambi la motivazione ha sottolineato "l'impegno alla promozione dei valori della Sostenibilità e della Responsabilità Sociale e... lo stimolo a farsi portavoce di questi valori".
Il Log To Green Movie Award - giunto alla sua 4a edizione - è stato istituito nel 2016 da Log To Green e da Cremonesi S.r.l. e viene assegnato all'opera, attori, registi che hanno trasmesso meglio al pubblico i temi della sostenibilità e dell'impegno alla promozione di buone pratiche per mitigare i cambiamenti climatici.
La guerra a Cuba
è il film di Renato Giugliano con Younes El Bouzari, Marco Mussoni, Luigi Monfredini, Elisabetta Cavallotti, Lorenzo Carcasci, Ousman Jamanka, Laura Pizzirani, Antonio De Matteo, Annalisa Salis che affronta in un racconto corale l'orrore che nasce dal mescolarsi di intolleranza, cinismo e fake news.
Scritto dallo stesso Giugliano assieme a Mario Mucciarelli ed ambientato fra Valsamoggia, Spilamberto e Savignano sul Panaro, va a scandagliare - dall'osservatorio privilegiato della provincia e del piccolo centro - una società che si è sgretolata e i cui cittadini, confusi e smarriti, finiscono sempre di più per diventare vittime di falsi miti, odiatori seriali e fake news. In un mondo infarcito di frustrazioni e in cui sempre di più i media sono succubi dell'ossessione del click e della pubblicità, in un attimo si genera il mostro che, guarda caso, è sempre l'altro, il diverso da noi, il soggetto in minoranza. E' questo il gioco malato in cui il rancore che è in noi fomenta il rancore negli altri e viceversa.
Il cercatore di Infinito
è il documentario di Andrea Azzetti e Federico Massa dedicato alla mitica figura di Armando Aste, grandissimo scalatore, poeta della montagna, uomo di pensiero e di anima che ha fatto dell'alpinismo un'occasione preziosa di riflessione umana ed etica, ponendosi come esempio per le nuove generazioni.
Il film è prodotto dalla padovana AVilAB, dalla trentina GiUMa Produzioni e dalla inglese The Old Film Farm in collaborazione con Trento Film Commission, con il contributo del Centro di Cinematografia e Cineteca del CAI, di SAT, MONTURA, della Comunità della Vallagarina, del Comune di Rovereto e della Regione Veneto Unione Europea POR - FESR Veneto 2014-2020.
"Dio non mi chiederà quante montagne ho conquistato ma cosa ho fatto per gli altri." Questo il messaggio di Armando Aste, grande alpinista, scomparso nel 2017. Il documentario mostra gli autori nei luoghi che hanno formato l'uomo e l'alpinista, andando all'origine della sua Fede. Il viaggio termina in Africa: all'inaugurazione di un ospedale realizzato con una donazione di Aste. La riflessione sui valori che ispirano la montagna si apre a una riflessione sull'uomo e i suoi limiti.