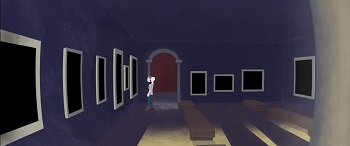 Dal 17 al 24 novembre, nell'ambito del Torino Film Industry, si tiene la VI edizione di
IDS Academy
, il laboratorio di sviluppo progetti ideato, prodotto e organizzato da Doc/it - Associazione Documentaristi Italiani con la collaborazione e il sostegno di MiBACT - Direzione Generale Cinema e di Film Commission Torino Piemonte. Un vero e proprio laboratorio di training intensivo pensato per autori italiani in cerca di produttori con l'obiettivo di affinare progetti coerenti ed efficaci in grado di competere sui mercati internazionali.
Lo studio attento del mercato audiovisivo nazionale e internazionale e la collaborazione con le realtà formative più all'avanguardia del territorio sono stati da sempre gli elementi che hanno composto la formula vincente di IDS Academy. L'edizione 2020 conferma la sua vocazione di strumento al servizio della creatività e dell'internazionalizzazione che sono i punti fondanti la mission di Doc/it.
Board of directors della VI edizione di IDS Academy: Heidi Gronauer, Massimo Arvat, Edoardo Fracchia.
IDS Academy 2020
si compone di due importanti momenti: il primo, dal 17 al 22 novembre, riservato ai finalisti selezionati di IDS Academy, con sessioni di training tra autori ed esperti e la masterclass della montatrice Marzia Mete. Il secondo, dal 23 al 24 novembre, aperto a tutti accreditati del Torino Film Industry.
Dalle ore 10.00 alle 11.00 di lunedì 23 novembre è previsto il webinar "Gli obblighi delle quote di investimento e di programmazione in opere di espressione italiana a sostegno della produzione indipendente" un incontro a cura di Doc/It in collaborazione con CNA Cinema e Audiovisivo Nazionale, volto ad approfondire e a suscitare proposte in merito agli obblighi delle emittenti televisive e delle piattaforme streaming a finanziare le opere audiovisive nazionali, al fine di sostenere la pluralità, la qualità e la crescita dell'intero settore. Interverranno: Nicola Borrelli, Direttore Generale - Direzione Cinema - Mibact, Claudia Pampinella, Presidente Doc/it - Associazione Documentaristi Italiani. Gianluca Curti, Presidente CNA - Cinema e Audiovisivo, Alessandro Borrelli, Presidente CNA - Cinema e Audiovisivo Piemonte, Giuseppe Rizzo, Avvocato Studio Legale Graziadei, Ivan Olgiati, Responsabile CNA Cinema e Audiovisivo Emilia Romagna.
Si continua martedì 24 novembre dalle 9.00 alle 19.00 con il match-making e le attese Pitching sessions con autori in cerca di produttore che presentano i propri progetti a una platea di commissioning editor, produttori, distributori, selezionatori di festival. Dalle 15.00 alle 18.00 seguono gli incontri one to one. A introdurre i tutor Massimo Arvat e Edoardo Fracchia.
In apertura al Match Making del 24 verrà lanciata una call dedicata a documentari sostenuti dal Doc Film Fund in fase di rough cut.
Sempre il 24 novembre dalle 17.00 alle 18.30 la Masterclass A Perfect Story organizzata da IDS Academy in collaborazione con Rai Documentari. Come sta cambiando il linguaggio del documentario? L'affermarsi della serialità, il binge watching, l'evoluzione del pubblico, l'avvento delle piattaforme e le nuove esigenze dei broadcaster hanno stimolato il nascere di nuove pratiche di scrittura e di storytelling. Georg Tschurtschenthaler (Gebrüder Beetz Filmproduktion) autore della serie A Perfect Crime, lanciata lo scorso settembre su Netflix, ne discuterà con Duilio Giammaria, direttore di Rai Documentari, raccontando il suo lavoro sul campo e gli ingredienti di una serie di successo.
I PROGETTI SELEZIONATI PER IDS ACADEMY
10 i progetti selezionati per l'edizione 2020 di IDS Academy che vanno dalla memoria collettiva a quella familiare, ma anche temi legati all'attualità come l'analisi della pandemia, o temi sociali come quello degli italiani di seconda generazione. Attraverso una pluralità di visioni i progetti 2020 mostrano una incredibile capacità di spaziare a livello geografico. Dalla California al Segal, dalle Azzorre al deserto Sud Sahariano fino all'Armenia. Espressione di una visione aperta alla creatività e all'internazionalizzazione del documentario italiano.
Animae
di John Bandieramonte è un progetto rivolto all'oggi che analizza la pandemia a partire dalla visione di sogni reali che svelano il delicato vissuto interiore e collettivo di un evento che ha messo in discussione tutto: salute, educazione, affetti, politica, informazione... Si apre così il dibattito. Può l'inconscio fornirci una lettura nuova, intuitiva, olistica con cui affrontare il futuro?
Cross the Border
di Virginia Bellizzi parla delle cosiddette seconde generazioni. Sono giovani, sono nati in Italia, ma non sono italiani. Almeno, secondo la nostra legge. Eppure, sono 1 milione e 316 mila. Le storie dei ragazzi di seconda generazione ci raccontano un'altra espressione sulla stessa faccia del nostro Paese. Quella che fa fatica a riconoscere questi ragazzi eternamente sospesi fra il mondo di origine e il paese d'adozione, che sono il fil rouge fra la contemporaneità e quel passato rappresentato dai loro genitori e nonni, protagonisti delle prime ondate migratorie degli anni 80' e 90'.
Honeydew - the end of illegality
di di Marco Bengonzi, Francesco Cibati e Michael Petrolini ci racconta di una comunità eterogenea, terra isolata nella contea di Humboldt nello Stato della California dove regna l'ingombrante business della marijuana. Honeydew è evasione per alcuni, prigione per altri. Dopo cinquant'anni di pace fondata sulla legalità condivisa, il terremoto della legalizzazione scuote le vite della comunità.
In the Shade of the Baobab
di Milad Tangshir troviamo il ritratto avvincente di una delle più grandi band africane, Orchestra Baobab. La storia della ricerca di un'identità postcoloniale attraverso la musica della negritudine. Una storia iniziata negli anni '60 nel cuore del Senegal per celebrare la coscienza nera attraverso la musica. La storia inizia nella cosmopolita e multietnica Dakar nel 1970, un decennio dopo l'indipendenza del Senegal e anno della fondazione della band.
Inverno
, di Cecilia M. Giampaoli, ci racconta il delicato lavoro da parte dell'autrice di ricostruzione il fatidico incidente aereo del 1989 che vide coinvolto suo padre. Il boeing 707 su cui viaggiava si schiantò su un'isola delle Azzorre. Di quel volo non si salvò nessuno. Nessun superstite dei 144 passeggeri tutti italiani. Nel 2014 l'autrice va sull'isola per cercare di rimetterne insieme i pezzi. Quello che è successo è raccontato in un libro -Azzorre- Neo Edizioni '20.
Miseria e nobiltà
di Patrizia Fregonese De Filippo è un altro interessante tassello sul lavoro legato alla memoria privata. Una bimba, che non ha conosciuto suo nonno, apre una cassapanca e scopre un album di foto ingiallite con volti di attori famosi: la Loren, la Magnani, Totò. Che ci fanno nell'album di famiglia? Suo nonno era un attore, ma sua madre non glielo aveva mai detto. Il segreto aleggia nella sua vita finché non decide di iniziare un viaggio "on the road" fra Roma, Napoli, Milano e la Sicilia, per svelare quel "segreto di famiglia" e andare alla ricerca delle radici perdute.
Queste cose non avvennero mai ma sono sempre
di Pierluca Ditano e Michela Tomasi. Taranto, nota perché ospita l'acciaieria più grande d'Europa, è una città decadente, una lingua di terra che unisce due cerchi di mare in una forma surreale. Le persone vivono in un limbo, combattono un sentimento ambivalente, tenace e invisibile, verso una città distratta e opprimente. Cercano pace a una costante inquietudine. Il film racconta il conflitto interiore di personaggi che la abitano pur sentendosi esuli.
Una storia italiana
di Giorgio Carella racconta che cosa vuol dire vivere da bambini in una famiglia messinese affiliata a Cosa Nostra. Che cosa vuole dire condividere con persone che fanno scelte di questo genere e avere un'infanzia difficile e rocambolesca.
We nomads
di Paolo Nepi. Un filmmaker italiano di moda vive una vita nomade senza meta. Incapace di progettare il suo futuro decide di cercare risposte nel passato. Un test del DNA gli rivela di appartenere alla tribù nomade africana dei Tuareg ed inizia così un viaggio alla ricerca della sua identità: cosa significa essere nomadi? We nomads ci porta dalle passerelle griffate della moda alle aride distese del deserto sub-sahariano, in un viaggio interiore alla scoperta di due mondi che rappresentano le facce della stessa medaglia: il nomadismo. In un mondo che corre sempre più velocemente e a misura di nomadi "digitali", cosa rischiamo di perdere?
The winning generation
di Marco De Stefanis, selezionato in collaborazione con EsoDoc, affronta la dolorosa questione armena. Per quasi 100 anni la famiglia Harutyunyan ha combattuto per l'indipendenza dell'Armenia. A 14 anni Shahen vede suo padre portato via dalla polizia e decide di continuare la battaglia di famiglia. Oggi a 21 anni vorrebbe cominciare a scrivere un futuro diverso per sé. Ma la guerra è sul suo cammino. Adesso Shahen è al fronte a combattere fianco a fianco con gli stessi amici con cui scendeva in strada a protestare. Se Shahen tornerà sano e salvo a casa non sarà certo lo stesso di prima.