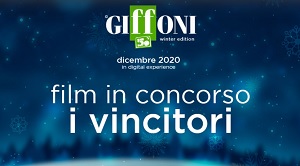 L'amore per il cinema nasce da piccoli. Nel buio della sala è facile lasciarsi incantare da storie, a volte lontane dalla nostra quotidianità e capaci di offrirci un punto di vista nuovo sul mondo, altre così intime ed emozionanti da farci scoprire qualcosa in più su noi stessi. Un legame così forte e saldo che oggi costituisce anche la spinta per continuare a viaggiare con la fantasia mentre il mondo sembra fermo, esattamente come è successo ai 1400 juror della Winter Edition che nei digital cinema di Giffoni si sono ritrovati attraverso il web.
È la voglia di scoperta, confronto, dialogo, crescita e messa in discussione di ogni sicurezza a far ritrovare migliaia di ragazzi, di edizione in edizione, per scegliere i film più profondi e capaci di lasciare un segno. Si chiude #Giffoni50 - dando appuntamento al 2021, anno del 50Plus – ma non si ferma la voglia di stare insieme e di premiare, dopo giorni intensi tra proiezioni e dibattiti, i tre lungometraggi vincitori del Gryphon Award 2020 per le sezioni Elements +6, +10 e GEX DOC. Una selezione appassionata che ha messo a confronto opere provenienti dall'Italia e da tutta Europa, oltre che da Stati Uniti, Iran, Argentina, Cile, Brasile, Russia, Turchia e Israele.
Ad aver conquistato gli Elements +6 è la forza dell'amicizia di THE ELFKINS: MISSIONE BEST BAKERY (Germania) di Ute von Münchow-Pohl, distribuito in Italia da Koch Media e su diverse piattaforme digitali dal 5 gennaio. Per la regista è un ritorno a Giffoni, tre i film presentati nella sezione Elements +3: LAURA'S STAR AND THE DREAMMONSTER nel 2012, RAVEN THE LITTLE RASCAL - THE BIG RACE nel 2015 e RABBIT SCHOOL - GUARDIANS OF THE GOLDEN EGG nel 2017. Per più di 200 anni gli Elfkins hanno vissuto sottoterra, evitando qualsiasi contatto con gli umani. Ma un giorno la giovane Helvi decide di uscire allo scoperto e andare incontro al suo destino.
Non hanno avuto dubbi sulla scelta del vincitore gli Elements +10: questa volta a essere premiato è stato THE CLUB OF UGLY CHILDREN (Olanda) di Jonathan Elbers, distribuito in Italia da Rai Cinema. In una città in cui l'aspetto e la cura sono tutto, un presidente malvagio decide di segregare tutti i bambini non all'altezza delle aspettative. Paul si renderà presto conto del piano diabolico e, insieme a Sara, dimostrerà che non serve essere carini per diventare degli eroi.
A trionfare per la sezione Gex Doc, totalmente dedicata ai documentari, è il regista vincitore di un Emmy Award per il film MEDORA, Davy Rothbart, che a Giffoni ha presentato 17 BLOCKS (Stati Uniti). Nel 1999, un bambino di nove anni, Emmanuel Sanford-Durant e la sua famiglia, hanno iniziato a filmare la loro vita nel quartiere più pericoloso d'America, a soli 17 isolati dall'edificio del Campidoglio degli Stati Uniti. Nell'arco di due decenni, il documentario racconta la crisi di una nazione attraverso la cruda e personale storia di una famiglia.
Questi tutti i vincitori:
ELEMENTS +6
Gryphon Award - Miglior Film
THE ELFINKS - BAKING A DIFFERENCE di Ute von Münchow-Pohl (Germania)
ELEMENTS +10
Gryphon Award - Miglior Film
THE CLUB OF UGLY CHILDREN by Jonathan Elbers (Paesi Bassi)
GEX DOC
Gryphon Award - Miglior Film
17 BLOCKS by Davy Rothbart (USA)
GENERATOR +13
Gryphon Award - Miglior Film
MAN UP! di Benjamin Parent (Francia)
Gryphon Award - Miglior Cortometraggio
LUCE & ME di Isabella Salvetti (Italia)
Premio Speciale
GRIFONE DI ALLUMINIO PREMIO CIAL (Consorzio Imballaggio Alluminio)
PER L'AMBIENTE
LA GUERRA DI CAM di Laura Muscardin (Italia)
Motivazione: Il Premio CIAL per l'Ambiente viene assegnato al film LA GUERRA DI CAM, in particolare, per il racconto drammatico ma al tempo stesso pieno di speranza scelto dalla regista che, nonostante si riferisca ad un futuro sconosciuto, si rivela per certi aspetti fortemente attuale. Il film racconta ai più giovani quanto il mondo in cui viviamo può diventare ostile se da noi maltrattato e quanto invece può esserci amico se sappiamo rispettarlo, senza abusarne.
GENERATOR +16
Gryphon Award - Miglior Film
OUR LADY OF THE NILE di Atiq Rahim (France/Belgium/Rwanda)
Gryphon Award - Miglior Cortometraggio
WILMA di Haukur Björgvinsson (Islanda)
GENERATOR +18
Gryphon Award - Miglior Film
AUERHOUSE di Neele Leana Vollmar (Germania)
Gryphon Award - Miglior Cortometraggio
REFLECTION di Juan Carlos Mostaza (Spagna)