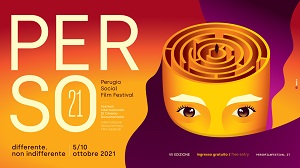 Sperimentazione e nuovi linguaggi, attualitŕ e storie che arrivano da lontano, violenza di genere, ambiente e pandemia: il presente con tutte le sue contraddizioni e gli scenari di crisi, ma anche le possibili vie d'uscita, i progetti e le storie edificanti. Dal 5 al 10 ottobre 2021 torna nel capoluogo umbro per la sua settima edizione il PerSo – Perugia Social Film Festival. Proiezioni ad ingresso gratuito nelle tre sale cinematografiche del centro di Perugia e un progetto artistico nel suggestivo Salone Grande del MANU – Museo Archeologico Nazionale dell'Umbria; parte del programma del PerSo sarŕ visibile gratuitamente sulla piattaforma 1895.Cloud. Proiezioni in lingua originale con doppia sottotitolazione in italiano e inglese per un'edizione densa di eventi per gli appassionati del cinema documentario e d'autore. L'appuntamento, luogo di analisi e riflessione sul contemporaneo e sui linguaggi del cinema del reale, propone oltre 40 titoli tra cui 7 anteprime italiane.
Differente. non indifferente, questo il claim che riassume lo spirito del PerSo. Sei giorni di proiezioni, quattro categorie di concorso, proiezioni fuori concorso, masterclass, incontri, le proiezioni nel Carcere di Perugia-Capanne (e un premio assegnato da una giuria di detenuti).
La giuria dell'Award 2021 č composta da Oskar Alegria, regista spagnolo, PerSo Award nel 2019 con Zumiriki; Steve Della Casa, critico e storico del cinema, direttore artistico di diversi festival e co-conduttore radiofonico dello storico programma Rai Hollywood Party e Massimo D'Anolfi, tra i maggiori esponenti del cinema documentario italiano a livello internazionale.
Inoltre, la giuria della redazione di Film TV e la giuria degli studenti universitari, con Antonietta De Lillo in veste di tutor e Presidente.I
I TITOLI del Concorso internazionale medio-lungometraggi in anteprima italiana (PerSo Award):
Imperdonable, di Marlén Vińayo, El Salvador, 2020, 36'. Best Short Documentary a IDFA 2020, Best International Short Documentary Award a Hot Docs 2021, primo film salvadoregno ad essere incluso nella short-list dei candidati agli Oscar.
Rancho, di Pedro Speroni, Argentina, 2021, 71'. Miglior opera prima al Bafici 2021.
Shady River, di Tatiana Mazú González, Argentina, 2020, 82'. Georges de Beauregard International Prize a FIDMarseille 2020
Before the Dying of the Light, di Ali Essafi, Marocco/Francia, 2020, 70′.
What I'm doing in this visual Word?, di Manuel Embalse, Argentina, 2020, 63'.
Ailleurs Partout, di Isabelle Ingold & Vivianne Perelmuter, Belgio, 2020, 63'.
Personal Life of a Hole, di Ondrej Vavrečka|, Repubblica Ceca, 2020, 62'.
I TITOLI del PerSo Short:
Wind, di Putz Martin, Austria, 2021, 30'. In anteprima italiana, ispirato a Une histoire de vent, film testamento di Joris Ivens.
Vedo Rosso, di Adrian Paci, Italia, 2020, 11'.
Letters from Silivri, di Adrian Figueroa, Iran, 2019, 16'.
Thousand Cypresses, di Luca Ferri, Italia, 2021, 13'.
The nightwalk, di Adriano Valerio, France/ Italy, 2021, 15'.
Searching for the perfect man, di Lena Windisch, Germany/ Netherlands, 2019, 9'.
Malumore, di Loris Giuseppe Nese, Italia, 2020, 12'.
Parizad, di Mehdi Imani Shahmiri, Iran, 2020, 24'.
PerSo Cinema Italiano, I TITOLI in concorso
50 - Santarcangelo Festival, di Michele Mellara e Alessandro Rossi, Italia, 2020, 76'.
Io resto, di Michele Aiello, Italia, 2020, 81'.
Movida, di Alessandro Padovani, Italia, 2020, 68'.
One More Jump, di Emanuele Gerosa, Italia, 2019, 83'.
Talking dreams, di Bruno Rocchi, Italia, 2020, 38'.
The Rossellinis, di Alessandro Rossellini, Italia, 2020, 90'.
Ultimina, di Jacopo Quadri, Italia, 2020, 62'.
PerSo Lab con appuntamenti di grande interesse per appassionati e cinefili. Ecco il programma: venerdě 8 ottobre c'č "Controidentificazione", la Masterclass di Massimo D'Anolfi e Martina Parenti, condotta da Sergio Sozzo e Aldo Spiniello. Sabato 9 ottobre la lecture di Luciano Barisone "Il Respiro del documentario". Domenica 10 ottobre "Buscando a una isla", Masterclass di Oskar Alegria, condotta da Giacomo Caldarelli. Informazioni ed iscrizioni su www.persofilmfestival.it/perso-lab-2021/
Giovedě 7 ottobre l'incontro informativo per gli addetti ai lavori sui prossimi bandi dell'Umbria Film Fund, bando di sostegno alle produzioni audiovisive promosso dalla neonata Umbria Film Commission; sabato 9 il regista Gianfranco Pannone presenta il suo ultimo libro "E' reale? Guida empatica del cinedocumentarista", accompagnato da Giovanni Piperno e Luciano Barisone.
L'hanno chiamata campagna Mascarilla 19, dal nome in codice che la vittima deve pronunciare se, con una scusa, riesce a liberarsi per un attimo del controllo asfissiante del suo aggressore dicendo che deve andare in farmacia. Basta che chieda una "Mascarilla 19" (mascherina 19) e il farmacista sa di dover avviare immediatamente il protocollo d'emergenza.
7 opere del progetto saranno proiettate dall'8 al 10 ottobre nel suggestivo Salone grande del MANU – Museo Archeologico Nazionale dell'Umbria, di Iván Argote (Colombia/Francia, 1983), Silvia Giambrone (Italia/Inghilterra, 1981), Eva Giolo (Belgio, 1991), Basir Mahmood (Pakistan/Paesi Bassi, 1985), MASBEDO (Italia, Nicolň Massazza, 1973 e Iacopo Bedogni, 1970), Elena Mazzi (Italia, 1984), Adrian Paci (Albania/Italia, 1969).
Progetto commissionato e prodotto da Fondazione In Between Art Film, fondata e presieduta da Beatrice Bulgari, che con il riferimento diretto a questa campagna ha voluto da un lato richiamare l'attenzione su un'emergenza globale, dall'altro dare uno stimolo agli artisti fornendo loro anche un sostegno concreto alla produzione di nuovi progetti quando tutte le produzioni artistiche risultavano sospese. Curatori del progetto: Leonardo Bigazzi, Alessandro Rabottini, Paola Ugolini.
Si parte con i Fuori Concorso martedě 5 ottobre al Cinema Zenith con la proiezione di Reality e con l'incontro online con il regista Matteo Garrone e con il protagonista del film, Aniello Arena.
Domenica 10 ospite speciale Alice Rohrwacher con la proiezione di Quattro strade, cortometraggio filmato in 16mm nella campagna umbra durante il lockdown, sguardo poetico sulle conseguenze sociali della pandemia nella piccola localitŕ Quattro strade.
Film di chiusura Faith, omaggio a Valentina Pedicini, grande documentarista italiana scomparsa nel novembre scorso.
Inoltre, i film d'esordio di Oskar Alegria (The search of Emak Bakia) e di Martina Parenti e Massimo D'Anolfi (I promessi sposi). Il Festival č organizzato dall'Associazione RealMente, in collaborazione con la Fondazione La Cittŕ del Sole Onlus. Direzione artistica di Luca Ferretti e Giovanni Piperno.