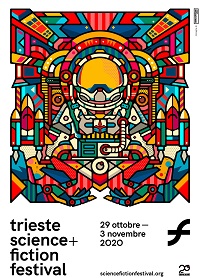 Trieste Science+Fiction Festival,
il più importante evento italiano dedicato all'esplorazione della fantascienza e del futuro, festeggia i suoi primi 20 anni. La manifestazione triestina si prepara a un'edizione speciale, in programma dal 29 ottobre al 3 novembre nel capoluogo giuliano e, per la prima volta, anche sul web.
ANTEPRIME MONDIALI E NAZIONALI
Il festival triestino vuole sollecitare un autentico binge-watching dal vivo e online agli appassionati di fantascienza con proposte inedite provenienti da Australia, Gran Bretagna, Irlanda, Russia, Italia, Argentina, Francia, Norvegia, Ungheria, Austria, Lussemburgo, Belgio, Lituania, Spagna e naturalmente USA.
In esclusiva per la sala, il festival presenta una ricca selezione di film tra anteprime mondiali e internazionali:
Archive
di Gavin Rothery, rivisitazione fantascientifica del mito di Frankenstein e film d'apertura della 20° edizione,
Peninsula
di Yeon Sang-ho, attesissimo zombie movie diretto dal regista del cult Train to Busan,
The Last Journey of Paul W.R.
di Romain Quirot, che mostra il pianeta Terra devastato dai cambiamenti climatici e ormai prossimo alla distruzione,
How I became a superhero
di Douglas Attal, ambientato in un mondo in cui i supereroi convivono con gli esseri umani,
Sputnik
di Egor Abramenko, horror fantascientifico ambientato durante la Guerra Fredda,
Executive Order
di Lázaro Ramos, che affronta il tema del razzismo in una futura e distopica Rio de Janeiro,
Meander
di Mathieu Turi, thriller fantascientifico del regista dell'intrigante survival-horror post-apocalittico Hostile,
Mandibules
di Quentin Dupieux, in cui due amici trovano una mosca gigante nel bagagliaio di un'auto e decidono di addomesticarla per guadagnarci dei soldi,
Come True
di Anthony Scott Burns, horror con protagonista una ragazza che scappa di casa e si ritrova con una serie di incubi ricorrenti senza possibilità di essere aiutata, e il documentario
Spaceship Earth
di Matt Wolf, che racconta un incredibile esperimento del 1991 portato avanti da otto visionari che passarono due anni confinati all'interno di una replica dell'ecosistema terrestre da loro progettata e chiamata Biosphere 2.
Al suo debutto sul web il Festival propone anche online una selezione del meglio della fantascienza del 2020 con anteprime e prime visioni in esclusiva: lungometraggi, documentari scientifici, una serie televisiva completa e 4 programmi di corti (il meglio dall'Italia, dall'Europa e dal mondo intero).
Tra i film che saranno disponibili in esclusiva per l'online vedremo Relic di Natalie Erika James, uno degli horror più acclamati dell'anno, che rinnova con originalità il filone delle case infestate, dalla terra di Babadook e Picnic a Hanging Rock; Immortal di Fernando Spiner, film fantascientifico argentino che vi catapulterà in un'altra dimensione; Alone di Johnny Martin, in cui lo scoppio di una terribile pandemia getta il mondo nel caos e ostaggio degli infetti; Dune Drifter di Marc Price, un film sci-fi a bassissimo budget che diventerà ben presto un autentico cult e dichiarato omaggio all'universo di Star Trek e alle escursioni nella fantascienza di Roger Corman; Benny loves you di Karl Holt, ispirato ai classici dell'horror comedy e con protagonista un pupazzo assassino in preda alla follia omicida, e il film sci-fi eco-futurista 2067 di Seth Larney, distribuito da Koch Media e con Kodi Smit-McPhee (il popolare Nightcrawler della saga degli X-Men) che interpreta un giovane astronauta del tempo, mandato nel futuro per impedire una catastrofe ambientale.
Disponibili sia sulla piattaforma online e proiettati anche dal vivo saranno i titoli Skylin3s di Liam O'Donnell, terzo capitolo della fortunata saga sci-fi e film di apertura del festival online, Jumbo di Zoé Wittock, opera dolce e surreale con Noémi Merlant (già protagonista dell'acclamato Ritratto della giovane in fiamme) e miglior film Generation 14Plus alla Berlinale 2020, l'adrenalinico The Blackout di Egor Baranov, film russo distribuito da Minerva Pictures, un'esplosione di fantascienza pura, dove l'ultimo avamposto dell'umanità è chiamato a resistere per la salvezza del nostro pianeta, Lapsis di Noah Hutton, una brillante satira politica sulla gig economy ambientata in un futuro prossimo, Mortal di André Øvredal, storia di supereroi che non rispetta le regole convenzionali del genere e porta la sfida europea alle produzioni Marvel e DC, Post Mortem di Péter Bergendy, una storia di fantasmi ambientata nell'Ungheria devastata dalla prima guerra mondiale, Yummy di Lars Damoiseaux, uno splatter divertente e pazzoide ispirato dalla saga de La casa di Sam Raimi e alle commedie horror di Peter Jackson, e l'avvincente Coma di Nikita Argunov (distribuito in Italia da Blue Swan Entertainment), sci-fi russo lisergico e visionario tra mondi paralleli dove le leggi della fisica svaniscono.
I DOCUMENTARI E GLI INCONTRI DI MONDOFUTURO
La fantascienza è il neorealismo del futuro. Scrivevano così, sessant'anni fa, alcuni critici dei «Cahiers du cinéma», in piena era atomica e agli esordi dell'avventura umana nello spazio. Affermazione che oggi, agli inizi del Terzo millennio, sembra più vera che mai. Perché nella fantascienza ci viviamo dentro. Perché tra algoritmi razzisti, epidemie, crisi climatica e altre catastrofi la realtà rispecchia gli scenari più dispotici della fiction. Un corto circuito che anche in questa nuova edizione del Trieste Science+Fiction Festival continuiamo a indagare, dentro e fuori lo schermo, esplorando nuove frontiere, immaginando nuovi mondi, viaggiando nel tempo e nello spazio. Oggi, negli anni Venti del nuovo secolo, dove stiamo andando? Come sta cambiando il nostro mondo, e come si trasformerà nei prossimi anni? Viviamo già in una realtà fantascientifica?
Queste domande sono il filo conduttore di M O N D O F U T U R O, il ciclo di incontri di scienza e fantascienza nato sui canali web del Festival della Fantascienza durante il lockdown e ispirato all'esperienza degli "Incontri di Futurologia". Nelle giornate di sabato 31 ottobre e domenica 1 novembre alle 10.30 sono in programma - in diretta streaming dal canale YouTube del Trieste Science+Fiction Festival - due maratone di incontri composte da 5 interviste ciascuna: la prima, dedicata al mondo della scienza, vedrà tra gli ospiti d'onore l'astronauta Luca Parmitano, la meteorologa Serena Giacomin e la giornalista scientifica Roberta Villa; la seconda, più orientata alla fiction, avrà in palinsesto il celebre fumettista, creatore di Rat-Man, Leo Ortolani, l'astronauta e astrofisico Umberto Guidoni e lo scrittore americano Daniel Kraus, co-autore de "I morti viventi" (La Nave di Teseo), romanzo postumo di George A. Romero.
Spazio anche al cinema documentario a tema (fanta)scientifico, con presentazioni e incontri di approfondimento a cura di esperti del settore, in collaborazione con gli enti scientifici del territorio; i film a tematica ambientale sono a cura di ARPA FVG – LaREA.
In esclusiva per il web sarà il documentario Coded Bias di Shalini Kantayya, in cui alcune scienziate del MIT indagano sui Bias e lottano per i diritti civili in un mondo dove l'Intelligenza Artificiale è ormai onnipresente: un'opera che analizza i pregiudizi degli algoritmi e dei supercomputer, in una sorta di Minority Report nella nostra realtà, per riflettere sulla società del presente (e del futuro), sempre più condizionata dall'intelligenza artificiale.
In programma e sempre in esclusiva per il web anche Tune Into the Future di Eric Shockmel, appassionante documentario su Hugo Gernsback, il nerd più influente di cui potreste non aver mai sentito parlare. Ha dato il nome a un premio della fantascienza che quasi nessuno associa al suo lavoro, a un cratere lunare invisibile dalla Terra e a una strada in Lussemburgo senza alcun indirizzo. Ha pronosticato decenni prima l'avvento di Skype, degli zaini-jet, delle ricerche minerarie nello spazio e dei droni. Ma anche se nel corso della sua vita registrò più di 80 brevetti e fu amico di gente come Edison e Tesla, la sua invenzione più rilevante resta la Fantascienza. In esclusiva per la sala sarà invece Spaceship Earth di Matt Wolf, che racconta un'avventura reale che supera la stessa immaginazione: nel 1991 otto visionari passarono due anni confinati all'interno di una replica dell'ecosistema terrestre da loro progettata e chiamata Biosphere 2. L'esperimento ebbe una risonanza mondiale e registrò giorno per giorno un'esistenza vissuta sotto la minaccia di un disastro ecologico potenzialmente letale e le sempre più numerose critiche di chi non vi vedeva che l'operato di una setta.