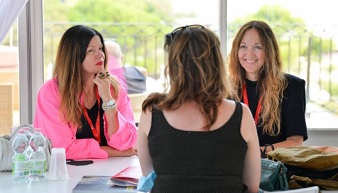 La nona edizione del
Venice Gap - Financing Market
che si svolgerà dal 2 al 4 settembre nel corso del Venice Production Bridge della 79. Mostra Internazionale d'Arte Cinematografica. Protagonisti di queste giornate saranno infatti 63 progetti, provenienti da tutto il mondo, nelle ultime fasi di sviluppo e finanziamento, scelti tra gli oltre 240 pervenuti.
Tra i tanti titoli, anche diverse opere italiane.
I film:
5 SEASONS OF REVOLUTION documentary (Syria, Germany, Norway, Netherlands, Qatar) by Lina, No Nation Films
THE 67TH SUMMER fiction (France, Austria, Egypt) by Abu Bakr Shawky, Cinenovo
ARCADIA fiction (Greece, Bulgaria) by Yorgos Zois, Foss Production, Homemade Films, Red Carpet
BE WITH ME fiction (Taiwan) by Hwarng Wern Ying, Sinomovie
BLUE BANKS (MALUL VANAT) fiction (Romania, France, Slovenia) by Andreea Cristina Bortun, Atelier de Film, Films de Force Majeure, Perfo
CHASING THE SUN fiction (China, Hong Kong) by Huang Ruosong, Event Horizon Culture Media, Chinese Shadows
COLD (KULDI) fiction (Iceland, Belgium) by Erlingur Thoroddsen, Compass Films, Eyjafjallajokull Entertainment, Mirage Films
AN ENDLESS SUNDAY (UNA STERMINATA DOMENICA)
fiction (Italy, Germany) by Alain Parroni, Alcor Srl, Fandango SPA, Road Movies
FANON fiction (France, Luxembourg, Belgium, Canada) by Jean-Claude Barny, Special Touch Studios
FATNA, A WOMAN NAMED RASHID (FATNA, UNE FEMME NOMMéE RACHID) documentary (Morocco, France) by Helene Harder, Abel Aflam, Wendigo Films
FIRST NAMES (LOS NOMBRES PROPIOS) documentary (Argentina, France, Germany) by Fernando Dominguez, Hormiga, Les Valseurs, Black Forest Films
FLOW fiction (France, Germany, Latvia) by Gints Zilbalodis, Sacrebleu Productions, Cine Litte Productions, Dream Well Studios
FüR IRENA documentary (Lithuania, Estonia, Bulgaria) by Giedrė Žickytė, Moonmakers, Allfilm, Agitprop
GOD WILL NOT HELP (BOG NECE POMOCI) fiction (Croatia, Italy) by Hana Jusic, Kinorama, Rosamont
A GOLDEN LIFE (OR DE VIE) documentary (France, Benin, Burkina Faso) by Boubacar Sangaré, Le Films de la Caravane, Merveilles Production, Imedia
HER SECOND CHANCE (LA SECONDA VITA)
fiction (Italy) by Vito Palmieri, Articolture
HOLD ME TIGHT (AGáRRAME FUERTE) fiction (Uruguay) by Ana Guevara and Leticia Jorge, Mutante Cine, Bocacha Films, Agustina Chiarino
HOME (BAYIT) fiction (Israel, Ukraine) by Or Sinai, BARYO
HORIZONTE fiction (Colombia, France, Chile) by César Augusto Acevedo García, Inercia Películas
HOUSES (BATIM) fiction (Israel) by Veronica Nicole Tetebaum, Marker Films, Daizy Films
I THE SONG fiction (Bhutan, France, Norway) by Dechen Roder, Dakinny Productions, Girelle Production, Fidalgo Film Production
INDELEBILE
fiction (Italia) by Laura Chiossone, Twister srl, Adler Entertainment, Showlab SRL
THE MASTER OF THIS SILENCE fiction (France, Poland, Ukraine) by Jonathan Littell, Veilleur de Nuit
THE MONSTERS working title (LOS MONSTRUOS working title) documentary (Argentina, Germany) by Manuel Abramovich, Ruido
THE MYSTERIOUS GAZE OF THE FLAMINGO (LA MISTERIOSA MIRADA DEL FLAMENCO) fiction (Chile, France, Mexico, Spain) by Diego Céspedes, Rampante Films, Quijote Films, Les Valseurs, Varios Lobos, Irusoin
NOVIEMBRE fiction (Colombia, Mexico) by Tomás Corredor, Burning Sas
SAM fiction (Philippines, Norway) by E del Mundo, Create Cinema Inc., DUOFilm
THE SMELL OF FRESHLY CUT GRASS (EL AROMA DEL PASTO RECIéN CORTADO) fiction (Argentina, Germany, Uruguay) by Celina Murga, Tresmilmundos Cine, Mostra Cine, Weydemann Bros., Nadador Cine
STRANGER EYES fiction (Singapore, France, Taiwan) by Yeo Siew Hua, Akanga Film Asia, Films de Force Majeure, Volos Films
TALES OF TAIPEI fiction (Taiwan) by Pawo Choyning Dorji, Keat Aun Chong, KEFF, Rachid Hami, Norris Wong, Pei-Ju Hsieh, Joseph Hsu, Chen-Hao Yin , Liu Chuan-Hui, Tang Yi , MA Studios Ltd
TITANIC OCEAN fiction (Greece, France, Spain, Romania, Germany, Japan) by Konstantina Kotzamani, Homemade Films
WHO'LL STOP THE RAIN fiction (Taiwan), by SU I-Hsuan, Suz Creative Studio
ZE fiction (France, Mongolia, Portugal, Netherlands, Germany) by Lkhagvadulam Purev-Ochir, Aurora Films
I progetti immersivi:
0 - ALBEDO
(Italy) by Iolanda Di Bonaventura and Saverio Trapasso, Artheria s.r.l.
ALTERNATES (BERGANTIAN) (Japan, France) by Jonathan Hagard, CinemaLeap Inc., Floréal Films
AMAZING MONSTER! (France, Switzerland) by Raphael Penasa, Allison Crank And Jonathan Droz , Wowl Production and Small Creative
BLISS CLUB VR (JOUISSANCE CLUB VR) (France) by Camille Duvelleroy, Atlas V
CROW CASTLE (KRAKSLOTT) (Sweden) by Ismaila Jallow, GötaFilm
EYES OF SHAME (GEDOS AKYS) (Lithuania, France, Slovenia) by Tomas Tamosaitis, Emmanuel Rouglan and Skirmanta Jakaite, Insomniak, Joni Art, Institute for Transmedia Design
father's video tape (Taiwan) by Baboo Liao, SWSG
GARGOYLE DOYLE (USA, Argentina) by Ethan Shaftel, EasyAction, Detona Cultura
KANDAKA (Sudan, USA, Francia) by Ainslee Alem Robson, Guada Labs
KILLING PHILIP (Brazil) by Fabito Rychter and Amir Admoni, Delirium XR
MIRROR (Taiwan) by Wu De-Chuen, Longwell
NANA LOU (MAMIE LOU) (France, Luxembourg) by Isabelle Andreani, Small Creative
SOULPAINT working title (HATSUMI) (UK, The Netherlands) by Niki Smit and Sarah Ticho, Monobanda, Impro Vive
STEPHEN HAWKING'S BLACK HOLES (UK) by Elliot Graves, Atlantic Productions, Alchemy
THE TOWERS OF FEBRUARY - VR (Germany) by Philipp Wenning, Studio Philipp Wenning, Expanding Focus GmbH
WE SPEAK THEIR NAMES IN HUSHED TONES (Nigeria, South Africa) by Osakpolor Omoregie, Electric South
I progetti immersivi di Biennale College:
1991 (Turkmenistan, USA, Canada) by Akmyrat Tuyliyev and Christina Elizabeth Borins, Sensorium
DEUSA DAS AGUAS (France) by João Paulo Miranda Maria, Les Valseurs
HUMART (Poland, UK) by Michał Stankiewicz, Liliana Grzybowska
KEEPER (Ireland, Italy) by Jennifer Shortall, Nuwa Digital Media
LOCKED UP
(Italy) by Antonio Messina, Robin Studio
MASSAD
(Italy) by Alba Zari, Slingshot Films
METEORA
(Italy) by Jacopo Marco Zanessi, Kublai
QUEER UTOPIA (Portugal, Brazil) by Lui Avallos, Mundivagante Studio
SENSING MIRROR (Taiwan) by Peiying LIN, Chin Hsuan SUNG
SOMEWHERE UNKNOWN IN INDOCHINA (Taiwan, Belgium, Cambodia, Vietnam, USA) by Asio Chihsiung LIU, Feng-Ting TSOU, Mimeo Films Ltd
THE THREAD. STORIES ABOUT MOTHERHOOD
(Italy, UK) by Elena Baucke, Ludovica Fales
I progetti di Biennale College:
DEUS CHERZAT
(Italy) by Silvia Perra, Mommotty Film
ONCE UPON A TIME YOU LOVED ME (Australia) by Melissa Anastasi, Unruly Hearts in Partnership with Media Stockade
PROBLEMATIK (South Africa) by Sifiso Khanyile, Zinc Pictures