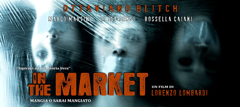 Si chiude oggi a Torino
la prima edizione del Kardiopalmo Thriller Horror Cine Festival,
concorso di cinema horror organizzato da BDProduzioni.
Dopo aver vinto vari premi, tra i quali la Palma d'Oro all'ultimo Mexico International Film Festival,
l'horror "In the market", diretto da Lorenzo Lombardi, arriva in anteprima straordinaria a Torino
, come evento speciale.
Il film splatter, prodotto da Whiterose Pictures sarà proiettato dalle 20.45 presso il Teatro Giulia di Barolo.
Alla serata saranno presenti il regista Lorenzo Lombardi e l'attrice Eleonora Stagi
, per presenziare un dibattito col pubblico in sala.
Nel cast anche Ottaviano Blitch, visto nell'ultimo horror di Zampaglione, "Shadow" e nel recente "Rasputin" di Louis Nero, tutt'ora nelle sale italiane.
"In the market" uscirà al cinema il prossimo 20 maggio.