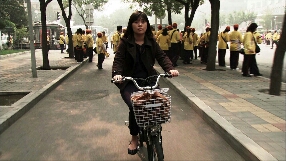 1° PREMIO LIFE AFTER OIL / MIGLIOR DOCUMENTARIO
THE LITHIUM REVOLUTION di Andreas Pichler
Motivazione: The lithium revolution ci proietta in un futuro già contaminato dall'industria e dallo sfruttamento, che si ammanta di un'idea nuova, green, appunto rivoluzionaria: l'utilizzo dell'auto elettrica.
1° PREMIO LIFE AFTER OIL / MIGLIOR CORTOMETRAGGIO
FUKUSHIMA NO DAIYMO di Alessandro Tesei
Motivazione: Il documentario non parla solo di una catastrofe nucleare, ma di un uomo che decide di esporsi alle radiazioni pur di restare nella propria terra: un messaggio ancestrale, che continuiamo a dimenticare per inseguire un'idea di sviluppo fugace e fatale.
PREMIO ISDE, MEDICI PER L'AMBIENTE (INTERNATIONAL SOCIETY DOCTOR FOR THE ENVIRONMENT)
TERRA NERA di Simone Ciani e Danilo Licciardello
Motivazione: Terra Nera racconta, con linguaggio lucido e sensibile, l'azione distruttiva delle multinazionali del petrolio e la loro volontà di imporre un modello di sviluppo non più sostenibile, calpestando i più elementari diritti dell'Uomo.
MENZIONE SPECIALE LIFE AFTER OIL (WWF + DIARI DI CINECLUB)
INTROSPECTION di Francesco Stefanizzi
Motivazione: Per la "vita dopo il petrolio" non bastano le soluzioni tecnologiche. La competizione dovrà cedere il passo alla collaborazione empatica. Introspection è un buon auspicio per tutti, soprattutto per chi sta iniziando la sua vita nel mondo nel migliore dei modi.
1° PREMIO LIFE AFTER OIL / MIGLIOR REGISTA
Rosario Simanella e Marco Landini per THE HUMAN HORSES
1° PREMIO LIFE AFTER OIL / MIGLIOR FOTOGRAFIA
SUPRA NATURA di Seth Morley e Dem
Motivazione: Colori e sfumature che si mescolano alla perfezione, un quadro rinascimentale e post-petrolifero. Una fotografia SUPRA le parti.
1° PREMIO LIFE AFTER OIL / BEST SOUNDTRACK
HOMETOWN MUTONIA di ZimmerFrei
1° PREMIO LIFE AFTER OIL / BEST ACTOR
Teodosio Barresi per PICCOLA STORIA DI MARE
PREMIO AMMENTOS / CONSULTA GIOVANILE DI MARTIS
LADIRI di Andrea Mura
Motivazione: Per l'argomento trattato, reale e concreto; per le immagini semplici, immediate e familiari e per la marcata ironia di alcune delle testimonianze degli intervistati, che sottolineano alcuni lati negativi della realtà che stiamo vivendo, ma che allo stesso tempo infondono anche una piccola speranza per il futuro.