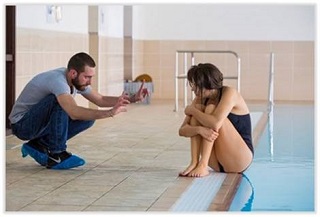 Si sono concluse in Trentino le riprese di
"The Habit of Beauty" (L'abitudine alla bellezza)
di Mirko Pincelli con Vincenzo Amato, Francesca Neri, Noel Clarke, Elena Cotta, Nico Mirallegro
Ernesto (Vincenzo Amato) un fotografo di successo e la sua compagna Elena (Francesca Neri) gallerista, vivono in Inghilterra da anni. Durante delle vacanze in Italia con il loro figlio, sulle montagne del Trentino, hanno un terribile incidente che sconvolgerà le loro vite. È l'inizio di un percorso intimo ed estremo, diverso per ognuno dei due che li porta a separarsi. Ernesto incontra Ian (Nico Mirallegro), un ragazzo di strada a cui si lega con passione. Elena incontra Stuart (Noel Clarke) con cui inizia una nuova relazione tentando di dimenticare un dolore eterno. Ernesto ed Elena si ritrovano dopo tre anni, ma qualcosa di inaspettato spinge Ernesto a tornare nella sua terra d'origine, dove ancora vive l'anziana madre (Elena Cotta), nel tentativo di ricostruire i legami con il passato e con la propria identità.
Mirko Pincelli, che nasce come fotografo, realizza pubblicità, video musicali, web series nel Regno Unito, in Europa e negli Stati Uniti. Dopo aver girato diversi documentari riconosciuti internazionalmente (come "Uspomene 677" che racconta la Bosnia contemporanea)
con "The Habit of Beauty" esordisce nel lungometraggio di finzione
. Il film recitato in italiano e inglese è interpretato da Francesca Neri, Vincenzo Amato, la star inglese Noel Clarke, Elena Cotta, la nuova promessa anglosassone Nico Mirallegro, Remo Girone, Mia Benedetta, Luca Lionello, Victoria Zinny e Tommaso Neri.
È una coproduzione Inghilterra-Italia, prodotta da Pinch Media Ltd (The Habit of Beauty Ltd) e Orisa Produzioni, ed è un film di interesse culturale realizzato con il sostegno del MIBACT, Rai Cinema, e Trentino Film Commission. Scritto da Enrico Tessarin, il film ha una cast tecnico prestigioso con Fabio Cianchetti direttore della fotografia, David Bryan scenografo (The Hurt Locker), Grazia Materia costumista, Esmeralda Calabria montatrice e Lilia Trapani e Maureen Duff casting.