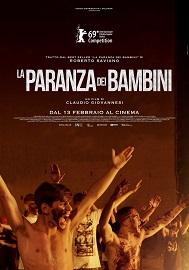 La Paranza dei Bambini
YOUTH IN THE WORLD è una rassegna di cinema che si svolgerà dal 1 aprile al 14 maggio 2019 a Ravenna, presso il Cinema Jolly, in via Renato Serra 33: 9 film lungometraggi e 8 film cortometraggi in cui i protagonisti sono i giovani adolescenti di tutto il mondo; rivolti al pubblico delle scuole - le classi degli Istituti Superiori (fascia 14-19 anni) e i loro docenti - e in maniera del tutto inclusiva anche al pubblico cinefilo e amante del grande cinema di qualità.
Alcune repliche sono previste presso il Cineclub Abajur, in Via Ghibuzza 12 a Ravenna.
I film in programmazione coprono tutti i generi, dalla fiction al biopic, dal documentario all'animazione, con una specifica attenzione alle opere di ricerca e di sperimentazione dei nuovi talenti del cinema, già premiate nei principali festival internazionali. Una selezione di altissimo livello che tiene conto anche delle caratteristiche di originalità, contemporaneità e freschezza, senza mai scadere in facili stereotipi.
Questi i lungometraggi presentati: dall'Italia La profezia dell'armadillo di Emanuele Scaringi, versione cinematografica della graphic-novel omonima di Zerocalcare, il pluripremiato e commovente Indivisibili di Edoardo De Angelis, La paranza dei bambini, dal romanzo di Roberto Saviano, diretto da Claudio Giovannesi e vincitore dell'Orso d'Argento alla Miglior Sceneggiatura a Berlino 2019; dal Regno Unito il documentario musicale di Steve Loveridge M.I.A. La cattiva ragazza della musica, sulla vita di M.I.A Matangi, bad girl per eccellenza del rap inglese; a rappresentare la Francia due drammi sul tema dell'insegnamento e dell'integrazione, Il professore cambia scuola di Olivier Ayache-Vidal e La mélodie del regista franco-algerino (già attore per Abdellatif Kechiche) Rachid Hami; dagli Stati Uniti d'America i delicati racconti di formazione Lady Bird, debutto alla regia e alla sceneggiatura dell'attrice Greta Gerwig, e Charley Thompson di Andrew Haigh, Premio Mastroianni al Miglior Attore Protagonista a Venezia 2017; infine dalla Slovenia il durissimo Class Enemy, diretto da Razredni Sovražnik e vincitore del premio al Miglior Film alla Settimana della Critica di Venezia 2013.
Al loro fianco verrà proposta una selezione di cortometraggi francofoni - proiettati in versione originale con sottotitoli italiani – sui temi dell'amicizia, del genere, sulla musica, a cura del FESTIVAL TOUT COURT.
In un'ottica di crescita civile, integrazione sociale e relazioni interculturali nelle scuole mediante l'utilizzo del cinema, YOUTH IN THE WORLD mostrerà storie di adolescenti di tutto il mondo, tra analogie, desideri e sogni comuni, e le naturali differenze che vanno vissute come positivo e reciproco arricchimento. Proporre film su "la meglio e la peggio gioventù" nel mondo intero, in tutte le possibili situazioni e sfaccettature, per conoscersi meglio tra giovani; ma anche per far conoscere meglio l'universo dei Giovani nel Mondo.
Un altro tipo cultura è possibile: intellettuale senza essere accademica, popolare senza essere populista, intelligente senza essere noiosa, artistica senza essere incomprensibile. YOUTH IN THE WORLD parte da film sui giovani per arrivare ai giovani, per incrociare i giovani tra di loro in un'ottica di curiosità, conoscenza, rispetto e inclusione. Ha un'idea di pedagogia in fieri, non altezzosa e non giudicante, fresca e briosa, che stimola la partecipazione attiva dei giovani e la loro libera espressione e reazione.
MODALITÀ PARTECIPAZIONE SCUOLE
La rassegna è aperta a tutte le classi di tutti gli Istituti Superiori di Ravenna. La partecipazione delle scuole alle proiezioni mattutine è gratuita e flessibile.
Orari proiezioni mattutine Cinema Jolly: ore 8.15 e 10.30
Le classi interessate possono partecipare a uno o più film; e su richiesta anche a tutte. Per prenotare uno o più film: mandare una mail all'indirizzo
[email protected]
, specificando film, data, scuola, classi, nr studenti, docente referente.
Per informazioni: tel 338.2964371.
Si possono prenotare proiezioni extra nelle mattine di martedì, giovedì e venerdì. Si possono prenotare proiezioni in lingua originale, nelle mattine libere.
PROIEZIONI SERALI PER IL PUBBLICO
Proiezioni al Cinema Jolly, via Renato Serra 33, Ravenna: ore 21.00, ingresso gratuito.
Proiezioni al Cineclub Abajur, via Ghibuzza 12, Ravenna: ore 21.00, ingresso gratuito riservato ai soci Aics.
L'iniziativa è realizzata nell'ambito del Piano Nazionale Cinema per la Scuola promosso da MIUR e MIBAC; organizzata dall'associazione Ravenna Cinema, in collaborazione con il Comune di Ravenna, Assessorato alla Cultura; in partnership con Soundscreen Film Festival e Per Non Morire di Televisione.