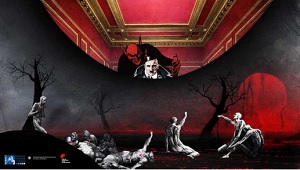 Butterflies in Berlin
"INSPIRING STORIES OF INSPIRED LIVES THROUGH THE ART".
Raccontare storie di vite ispirate attraverso l'arte è il mio obiettivo. Non è impossibile, ma ci vuole coraggio. Ci vuole coraggio per essere e pensare in modo diverso.
Le farfalle del titolo simboleggiano la morte e la rinascita dei protagonisti di questa storia. Inoltre, come le quattro fasi della vita di una farfalla (uovo, bruco, pupa e adulto), quattro sono i capitoli della metamorfosi spirituale e fisica del personaggio di Alex/Alexandra.
Quando la farfalla prende il volo, a conclusione della sua metamorfosi, improvvisamente vede il mondo da una prospettiva completamente diversa, una visione non convenzionale della bellezza più viva. È la stessa cosa che succede ad Alex, la cui storia è raccontata in prima persona. Le pagine di diario lette ad alta voce dal protagonista aiutano lo spettatore a condividere le sue emozioni dandoci per un momento l'impressione che, probabilmente, siamo tutti come "farfalle a Berlino", alla ricerca del nostro posto nel mondo.
L'evoluzione dello stile visivo dell'animazione seguirà entrambe le trasformazioni di cui Alex è
protagonista, ovvero quella personale e quella storico-sociale. Ad esempio, mentre la colorimetria della prima parte del film si ispira alle palette oniriche dei pittori dell'espressionismo tedesco (tra cui Otto Dix, George Grosz e Jeanne Mammen), la seconda parte denota un segno molto più grottesco e inquietante che riflette l'ascesa al potere di Hitler e la caratteristica estetica della propaganda nazionalsocialista. Si può facilmente notare dallo storyboard come i toni blu accessi delle prime immagini inerenti la Repubblica di Weimar virino gradualmente verso il rosso cupo del periodo nazista.
Vi sono invece scene di ispirazione surrealista, come quella della trasformazione da uomo a donna di Alex durante l'operazione chirurgica, dove il racconto tradizionale lascia spazio a uno stile narrativo prettamente visivo, poetico ed evocativo. E ancora, Marc Chagall e il suo quadro "Green Lovers" (1924) sono stati i punti di riferimento per l'elaborazione stilistica di un momento particolarmente emozionale in cui i due amanti, distesi sui tetti della Berlino notturna, immaginano un nuovo mondo in cui possano vivere insieme.
L'animazione diventa così uno strumento potente attraverso il quale commemorare e raccontare la Storia, nonché un mezzo di comunicazione particolarmente efficace per rappresentare l'intero spettro delle esperienze umane.
La musica e la colonna sonora sono anch'esse una parte fondamentale del film e definiscono la sfera emotiva del protagonista. Si è proceduto alla ricerca di quelle musiche che meglio si adattassero allo stile visivo del film e che esprimessero il carattere di Alex. Uno su tutti, l'Aria di Händel Fra l'ombre e gl'orrori (tratta dall'opera lirica Aci, Galatea e Polifemo, 1708), che anche nel testo sposa le emozioni del protagonista al suo arrivo nella capitale tedesca: Fra l'ombre e gl'orrori farfalla confusa già spenta la face, non sa mai goder.
Credo nell'importanza di raccontare le origini del pregiudizio attraverso l'arte. La memoria collettiva ha sempre avuto un'enorme ruolo nella società e lo storyteller ha il compito di preservarla con metodi sempre nuovi che meglio si adattino al periodo storico.
Questa particolare vicenda riflette in maniera universale sull'identità di genere e sull'accettazione di se stessi. Lo spettatore sarà guidato attraverso le emozioni, la sofferenza indicibile e i sogni irrealizzati del protagonista: Alex/Alexandra, una donna che si sente intrappolata in un corpo di uomo.
Il film ha richiesto per il suo sviluppo un' attenta ricerca storica e iconografica riguardo gli eventi e personaggi storici trattati e si ispira a fatti realmente accaduti.
Monica Manganelli