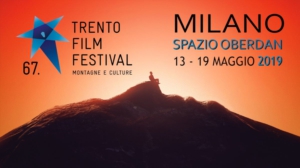 Dal 13 al 19 maggio presso Cinema Spazio Oberdan a Milano, Fondazione Cineteca Italiana, in collaborazione con Trento Film Festival e CAI Milano, presenta la decima edizione milanese del Trento Film Festival, uno dei più antichi festival italiani (nato nel 1952 e giunto alla 67.edizione) e uno dei più importanti appuntamenti al mondo di cinema che affronta tematiche di alpinismo, cultura montana e ambiente.
Questa virtuosa collaborazione si rinnova con una selezione del festival trentino edizione 2019 (27 aprile – 5 maggio) realizzata in accordo con il direttore Luana Bisesti e il responsabile del programma cinematografico Sergio Fant.
Venti i film della rassegna trentina proposti al Cinema Spazio Oberdan, quasi tutti in anteprima per la città di Milano.
Tra gli ospiti di questa decima edizione milanese segnaliamo Luigi Lo Cascio, che incontrerà il pubblico in occasione della proiezione de Il mangiatore di pietre di Nicola Bellucci.  
Tra i tanti i film in programma che rappresentano l'anima alpinistica del festival troviamo Manaslu - Berg Der Seelen, che ripercorre la biografia di Hans Kammerlander, uno dei più grandi alpinisti del nostro tempo; Return to Mount Kennedy, racconto realizzato con rare immagini d'archivio che vede al centro le iconiche figure di John Fitzgerald e Robert Kennedy; Age of Ondra che racconta la vita e le imprese dell'impareggiabile campione di arrampicata Adam Ondra.
Paesaggi spettacolari sono al centro di altri interessanti film: sull'impressionante altopiano desertico di Atacama in Cile è giratoCielo; con Piano to Zanskar di Michal Sulima si viaggia tra i paesaggi maestosi dell'Himalaya indiano; The Border Fence, del grande documentarista austriaco Nikolaus Geyrhalter, è invece girato sul confine tra Austria e Italia; mentre si viaggia tra le Alpi per La Grand-Messe, film vincitore del Gran Premio "Città di Trento" Genziana d'oro, spassoso ritratto dei tifosi in attesa del passaggio del Tour de France.
L'attenzione per l'ambiente è al centro di molte produzioni come Queen Without Land, che segue la vita di una mamma orso polare e dei suoi cuccioli e l'impressionante Aquarela, del maestro del cinema documentario Victor Kossakovsky.  
Tra gli ospiti di questa edizione il giornalista Marzio G. Mian che lunedì 13 maggio alle ore 20.30 racconterà la figura di Roald Amundsen nel contesto delle competizioni esplorative polari, a seguire sarà proiettata la biografia kolossal di produzione norvegese Amundsen, con protagonista la star internazionale Paål Sverre Hagen.
Martedì 14 maggio alle 20.30, prima del documentario all star Fine Lines, il conduttore televisivo Massimiliano Ossini presenterà al pubblico in sala il suo libro Kalipé lo spirito della montagna: la mia vita, le mie vette e la ricerca della felicità.
Infine, sabato 18 maggio alle ore 21.00 sarà ospite del Festival l'attoreLuigi Lo Cascio che introdurrà, assieme al regista Nicola Bellucci, il film Il mangiatore di pietre, un cupo thriller ambientato sulle montagne tra Italia e Svizzera, dove gli "spalloni" di un tempo accompagnano oggi i migranti in fuga.  
Giovedì  16 maggio alle ore 21.15 Marco Albino Ferrari presenta una serata dedicata all'etnologo ed esploratore Fosco Maraini, al termine della quale verrà proiettato il documentario Fosco Maraini, il miramondo, un ritratto effettuato da Marco Colli e Alberto Meroni.
Venerdì 17 maggio alle ore 19.00 appuntamento con il grande spettacolo del cinema muto con il recente restauro da parte del Deutsches Filminstitut di Francoforte di Der kampf ums Matterhorn (La grande conquista) prodotto nel 1928 in Germania, ma diretto dagli italiani Mario Bonnard e Nunzio Malasomma. La spettacolare celebrazione di sfide e avventure alpinistiche, ricostruzione romanzesca della prima salita del Cervino da parte di Èdward Whymper, verrà accompagnata dal vivo dalla pianista Francesca Badalini.