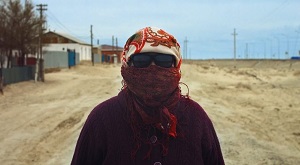 THE ROAD CONCORSO MEDIO-LUNGOMETRAGGI
Premio Migliore Film
BALKONUR. EARTH di Andrea Sorini
Motivazione: Per la capacità di raccontare con la sola forza delle immagini il costante rapporto fra Terra e Cielo nella storia di un popolo che sembra capitato lì per caso ma che in realtà è stato estromesso dal sogno altrui di toccare il cielo con un dito attraverso l'ingegneria spaziale. Come se gli alieni fossero già arrivati…Un reportage che, grazie a una fotografia pittorica, che a tratti ricorda le tavole di Moebius, diventa narrazione di un mondo a parte. Un viaggio metafisico, ricco di poesia.
Menzione Speciale della Giuria
THE OBSERVER di Rita Andreetti
Motivazione: Per il coraggio di denunciare un regime oscurantistico, che in apparenza sembra voglia rinnegare il passato ma che in realtà ne perpetua i metodi coercitivi e censori. E soprattutto per il merito di farci appassionare alla straordinaria figura e all'opera di Hu Jie, il pittore, incisore e documentarista cinese da anni sulla lista nera del regime. Un inno all'eroismo del cinema indipendente e allo spirito indomito di un artista che fino all'ultima inquadratura non rinuncia a lanciare al mondo il suo grido di dolore.
Premio del Pubblico Detour
I WISH I WAS LIKE YOU di Luca Onorati e Francesco Gargamelli
SHORT>CUTS CONCORSO CORTOMETRAGGI
Premio Migliore Cortometraggio
CHOPPER di Giorgos Kapsanakis
Motivazione: Un piccolo film molto coinvolgente, tecnicamente rifinito e pieno di suspense, che ci trasporta nella dimensione avventurosa del viaggio stando fermi in una stanza. La rievocazione delle sfrenate corse on the road dell'ex motociclista ormai malato ci fa riflettere anche sul viaggio più grande, quello della vita, di cui la vecchiaia è il traguardo finale. L'anziano non è un peso da scaricare, ma il depositario di una storia unica che va raccontata per poter guardare al futuro con più consapevolezza, che è poi uno dei compiti del cinema e Chopper sembra assolverlo in pieno.
Menzione Speciale della Giuria
THE EVIL EYE di Leonore Kasper
Motivazione: Per la sintesi ironica con cui smaschera i meccanismi dell'informazione in cui siamo immersi quotidianamente, con un semplice ma efficace gioco di capovolgimento della rappresentazione della realtà e del punto di vista. Con uno stile visivo che imita perfettamente il reportage tv, mostra un'ottima padronanza della messa in scena e del ritmo del racconto, in un crescendo credibile, inquietante e divertente allo stesso tempo.
TRAVEL NOTEBOOKS: BILBO, BIZKAIA – SPAIN di Silvia Di Gennaro
Motivazione: Per il suo stile tout court che ci fa ricordare con dolce nostalgia i vecchi maestri d'animazione d'avanguardia, una forma di cinema sperimentale alla ricerca dell'essenzialità della forma. Un film che riesce a trasmettere la curiosità e il senso della scoperta, elementi fondamentali del viaggio e in cui la spontaneità e giocosità delle composizioni sono in perfetta sintonia con lo spirito on the Road.
Premio del Pubblico Detour
BARADAR di Beppe Tuforolo
Menzione Cinema Detour
Nawid Sharifi, Danosh Sharifi per la Migliore Interpretazione in BARADAR di Beppe Tuforolo