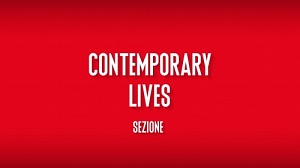 Dal 5 al 15 giugno,
Biografilm Festival
sarà online e dal primo giugno sarà possibile prenotare un posto nella sala virtuale del festival, accedendo al sito www.mymovies.it e creando un account. Sarà possibile fruire la visione nell'arco delle 24 ore successive all'inizio della proiezione.
I film e gli incontri con gli autori saranno disponibili gratuitamente, in lingua originale con sottotitoli in italiano, per tutte le persone che si collegano alla piattaforma dal territorio italiano. Maggiori informazioni saranno disponibili sul sito biografilm.it nei prossimi giorni.
Biografilm Festival si svolge con il contributo dell'Assessorato alla Cultura e Paesaggio della Regione Emilia-Romagna.
Con documentari nuovi e potenti, la sezione
CONTEMPORARY LIVES
offre prospettive inconsuete sulla nostra contemporaneità. Così Biografilm propone al suo pubblico una riflessione su ciò che sta accadendo del mondo. Quest'anno, in particolare, si interroga sul potere, sui suoi meccanismi, sui privilegi che derivano dal suo esercizio e su cosa accade a chi, da questi privilegi, è escluso.
Dalle basi – incerte – del sistema su cui poggia lo strapotere di Donald Trump, alle lotte quotidiane delle soggettività non conformi e non appartenenti alle classi privilegiate. Dai retroscena del World Economic Forum, alle battaglie di chi afferma la libertà di esprimersi, di amare, di scegliere dove e come vivere, con il proprio corpo e la propria sensibilità. Fino al viaggio nelle fabbriche cinesi di oggetti natalizi, straordinario specchio attraverso il quale possiamo guardare il nostro stile di vita globale contemporaneo.
I titoli e le sinossi di Contemporary Lives:
#Unfit - The Psychology of Donald J. Trump
, di Dan Partland (Stati Uniti, 2020, '83), anteprima italiana
Un'illuminante e dirompente analisi del comportamento, della psiche, della condizione psichica e della stabilità mentale di Donald J. Trump. Dopo anni di osservazioni empiriche, per la prima volta, esperti professionisti della salute mentale condividono le proprie osservazioni davanti alla telecamera, spinti dall'etica e dal dovere di informare ed avvertire il pubblico di possibili pericoli imminenti.
Always Amber
, di Lia Hietala e Hannah Reinikainen (Svezia, 2020, '76), anteprima italiana
Amber è una teenager di 17 anni. Amber e il suo migliore amico Sebastian sono due giovani ragazzi queer che condividono un mondo lontano dagli occhi inquisitori e dal giudizio della società. Quando Amber si innamora di Charlie, qualcosa cambia mettendo alla prova la loro utopia. La fiducia viene a mancare, si genera il caos, e Amber si trova ad affrontare la transizione da sola. Always Amber è uno sguardo speciale su una nuova generazione.
Angels on Diamond Street
, di Petr Lom (Paesi Bassi, Norvegia, 2019, '88), anteprima italiana
Angels on Diamond Street è la storia di tre donne impegnate nella battaglia per l'equità e la giustizia sociale in una chiesa frequentata dalla comunità̀ afroamericana in un quartiere povero di Philadelphia. Un giorno, un immigrato clandestino messicano chiede asilo alla chiesa. Insieme alla capocuoca Mamie, alla ex Black Panther Barbara e al pastore Renee, ci troviamo nella mensa per i poveri della Church of the Advocate, chiesa episcopale e monumento nazionale, famosa per l'impegno nella lotta per i diritti civili. Quando una donna messicana, anche lei immigrata clandestina, disperata, chiede rifugio per proteggere sé stessa e i suoi quattro figli dal rimpatrio forzato, viene accolta a braccia aperte e invitata a vivere nella comunità̀ episcopale. Un documentario sulla compassione che ci invita a dimenticare confini geografici e differenze di religione e cultura.
Fat Front,
di Louise Unmack Kjeldsen e Louise Detlefsen (Danimarca, 2019, '87), anteprima italiana
Quattro giovani donne scandinave non tollerano più̀ l'odio e le critiche sul proprio corpo. Sono finalmente orgogliose di essere grasse. Esigono il rispetto e l'accettazione da parte di una società̀ ossessionata dalla dieta e in cui è difficile sentirsi accettate. Per troppo tempo hanno vissuto una vita in sospeso. Hanno aspettato di essere magre per potersi comprare un vestito, per andare a ballare e per trovare l'amore. Poi, finalmente, hanno trovato sé stesse e il movimento del body positivity. Sono pronte a entrare in azione muovendo i morbidi fianchi e usando il corpo come un'arma ideologica. Femminista e provocatorio, questo film cambierà̀ il modo in cui vediamo il nostro corpo. Un film sui pregiudizi e sulla ribellione, un viaggio divertente e toccante di un gruppo di giovani donne piene di energia.
The Forum (Das Forum)
, di Marcus Vetter (Germania, Svizzera, 2019, '92), anteprima italiana
In questi tempi di populismo sfrenato e di crescente sfiducia nelle autorità̀, il regista Marcus Vetter si affianca all'ottantunenne fondatore del controverso Forum Economico Mondiale (WEF) per circa due anni. La missione di quest'ultimo: rendere il mondo un posto migliore. Grazie a una lettera inviata da Klaus Schwab alla giovane attivista per il clima Greta Thunberg, scritta dopo la partecipazione di Greta al Forum l'anno precedente, si instaura un confronto generazionale e comincia un dialogo che dà speranza. Ci saranno esiti positivi? Il Forum potrà̀ contribuire alla risoluzione dei problemi globali? O sarà̀ invece esso stesso parte del problema, succube degli interessi di potenti élite?
Love Child
, di Eva Mulvad (Danimarca, 2019, '110), anteprima italiana
La storia drammatica e toccante di Lella e Sahand, coppia iraniana fuori legge, bandita dall'Iran a causa del proprio amore, che fugge da Teheran con il figlio di quattro anni, Mani. Entrambi già sposati in precedenza, amandosi hanno commesso un crimine. Le relazioni extraconiugali sono illegali in Iran, di conseguenza non viene loro concesso il divorzio. La coppia non può nemmeno riconoscere Mani, poiché figlio illegittimo, rischiando altrimenti la pena di morte per adulterio. Per oltre cinque anni la coppia è stata filmata nell'intimo e nel privato, nell'impresa di rimanere unita combattendo contro la legge iraniana ed europea, vivendo sospesa in un limbo.
Merry Christmas, Yiwu
, di Mladen Kovačević (Svezia, Serbia, Francia, Germania, Belgio, Qatar, 2020, '94), anteprima italiana
Gli ideali del comunismo hanno da tempo perso valore a Yiwu, città con più di 600 fabbriche di Natale. Consumismo e materialismo su scala mondiale, il Natale come lo conosciamo oggi. Grazie all'aumento dei salari, gli operai di queste fabbriche possono permettersi l'ultimo modello dell'Iphone, ma continuano a vivere in camerate affollate. Come immigrati nel proprio stesso Paese, nostalgici di luoghi lontani, alcuni di loro sentono la mancanza della famiglia, ad altri mancano i colleghi e gli affetti nati sul luogo di lavoro, quando si trovano in ferie a casa. Le nuove generazioni sono stanche dopo lunghe ore di lavoro, a contatto con i fumi chimici. Non pensano a studiare e istruirsi, come vorrebbero i loro genitori. Sono bloccati tra il rispetto della tradizione cinese e la rincorsa di un sogno tutto nuovo, fatto di business, ricchezza, indipendenza e anche amore.
Self Portrait (Selvportrett)
, di Katja Hogset, Margreth Olin, Espen Wallin (Norvegia, 2020, '77), anteprima italiana
Lene Marie Fossen, fotografa di grande bravura, soffre di anoressia. Smise di mangiare all'età di dieci anni. Con la sua arte, nuda e onesta, è decisa a fare luce sui pregiudizi sulla sua malattia e a confrontarsi con essa. Self Portrait è il viaggio difficile di Lene Marie, alla quale sarebbe piaciuto tanto se fosse stato possibile, con le sue parole, "schioccare le dita e ricominciare a mangiare". Lene Marie è morta nell'ottobre del 2019 a soli 33 anni. Insieme alla sua famiglia è però riuscita a vedere questo film, con la speranza di poterlo mostrare in tutto il mondo.
Termite (Mouriyaneh)
, di Masoud Hatami (Iran, 2019, '86), anteprima italiana
Tara e Peyman si sono appena sposati. Sono una giovane coppia che ha appena iniziato a vivere insieme. Sono i protagonisti di una storia ai confini della realtà̀, dove reale e surreale si intrecciano. Ritornano alla città d'origine, per la vendita di una vecchia proprietà̀. Durante il loro viaggio, ci sono decisioni, segreti e menzogne che li porteranno a cambiare idea su sé stessi e ciò che li circonda. Il passato, il presente e il futuro perseguitano tutti, registi compresi.
We Were Not Born Refugees (No nacimos refugiados)
, di Claudio Zulian (Spagna, 2020, '82), anteprima mondiale
Un documentario sulle storie speciali di otto rifugiati le cui vite si incrociano a Barcellona. Iryna, Mohamad, Gabriel, Boris, José Luis, Mahmoud, Maysam e George: avvocati, musicisti, interpreti, guardie di sicurezza, impiegati di call center. Ognuno di loro ha saputo prendere una decisione cruciale: la scelta dell'esilio per fuggire l'oppressione individuale. Ascoltiamo la storia di quella fatidica decisione, e di come apporta significato alle loro vite. Ci sorprenderà̀ scoprire che la loro forza e i loro sogni influenzano quotidianamente le persone con cui lavorano, quelle a cui insegnano e quelle che aiutano. Questa è la storia di otto vite vissute pienamente.