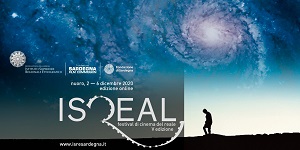 La quinta edizione di IsReal - Festival del Cinema del Reale avrà luogo dal 2 al 6 dicembre 2020 sulla piattaforma online di MYmovies (mymovies.it). Il festival è organizzato dall'Istituto Superiore Regionale Etnografico della Sardegna con la partecipazione di Fondazione di Sardegna e Fondazione Sardegna Film Commission.
Con 21 film in calendario, il programma della rassegna diretta per il quinto anno da Alessandro Stellino presenta il meglio della produzione documentaria internazionale, privilegiando le opere a carattere etno-antropologico, con un occhio di riguardo per gli esordienti e i giovani autori. 9 le opere in competizione internazionale, 3 compongono l'omaggio al rinomato documentarista cileno Patricio Guzmán, 5 opere fuori concorso e 4 nella neonata sezione Camineras, dedicata ai film isolani.
Nell'anno più difficile, con una pandemia globale in corso e le sale cinematografiche chiuse, il festival trova una sua nuova dimensione nella diffusione digitale in grado di salvaguardarne lo spirito che l'ha mossa fin dal principio. Finestra sul panorama documentario contemporaneo e osservatorio privilegiato sul mondo circostante, IsReal continua a creare un ponte tra i popoli e le culture per mezzo del cinema documentario e della sua diffusione. In un momento in cui chiusure e restrizioni limitano i margini di movimento del singolo e della collettività, il cinema è in grado di spalancare scenari lontani grazie allo sguardo di registi e registe che si fanno testimoni di un pianeta vivo e in perenne trasformazione. La necessità di conoscere quello che accade fuori dalle nostre finestre, oltre le vie di casa, lontano dalle nostre città è ancora più forte di prima, e il cinema documentario, nella sua salda aderenza al reale, se ne fa tramite.
"Niente può sostituire la visione dei film in sala" sostiene il direttore artistico di IsReal Alessandro Stellino "ma nei momenti più difficili di quest'anno abbiamo scoperto che l'offerta di cinema va salvaguardata a tutti i costi e che il digitale offre inedite e sorprendenti opportunità. Per questo abbiamo creduto opportuno rispettare il programma stilato in precedenza, confermando la partecipazione di tutti i film già selezionati, a conferma di un'adesione entusiastica da parte dei loro autori e autrici, ribadita anche a seguito delle attuali limitazioni. Se è vero che un festival non può non configurarsi come luogo di incontro e scambio tra le persone, per creare comunità intorno ai film, è anche vero che la rete è in grado di ampliare in maniera esponenziale la platea di spettatori e far circolare le opere ben oltre la dimensione limitata data da uno specifico luogo. Il programma di film che abbiamo composto per questa quinta edizione di IsReal rispetta l'alto livello di quelle precedenti nel proporre opere originali e coraggiose, in linea con la missione di ricerca etno-entropologica dell'Istituto e del festival. A mancare sarà solo la dimensione di condivisione fisica, in presenza, la possibilità di discutere delle opere a caldo, e di interpellare i registi. Ci auguriamo che l'anno prossimo la situazione possa tornare alla normalità e che il festival trovi nuovamente casa nell'Auditorium Lilliu di Nuoro".
Dice Stefania Masala, commissario straordinario dell'ISRE: "Nonostante la pandemia abbia pesantemente segnato lo svolgimento delle attività dell'ISRE, il festival di cinema del reale promosso e organizzato da noi, porta all'attenzione del pubblico le migliori produzioni del cinema documentario, offrendo un quadro aggiornato delle nuove frontiere dell'antropologia visuale. Uno sforzo doveroso volto ad onorare la missione statutaria dell'Ente e una concreta azione di solidarietà sociale che mira ad aprire nuove finestre sul mondo, per cogliere nuovi scenari".
"Per l'Istituto la rassegna di cinema documentario ha sempre rappresentato il terreno privilegiato per promuovere la conoscenza, l'analisi e il dialogo con le culture di tutto il mondo", aggiunge il direttore generale Marcello Mele, "una lunga storia di impegno organizzativo e scientifico che non si interromperà neppure in questa sfortunata contingenza grazie alla moderna tecnologia che ci consentirà di assistere on line alle proiezioni in programma, da una sala virtuale approntata per l'occasione".
Non mancheranno i consueti momenti di approfondimento, per la mattinata del 5 dicembre è infatti previsto l'incontro/dibattito dal titolo L'antropologia visuale intorno e oltre il film etnografico a cui parteciperanno Paolo H. Favero (univ. Anversa), Felice Tiragallo (univ. Cagliari), Vincenzo Esposito (univ. Salerno), Francesco Marano, (univ. della Basilicata), Greca Meloni (univ. Vienna) e Rossella Ragazzi (univ. Tromso).
Film d'apertura, in prima italiana, è Sapelo di Nick Brandestini, vincitore della competizione nazionale nell'ultima edizione di Visions du Reel a Nyon. Il titolo prende spunto dal nome di una piccola isola al largo della Georgia, negli USA, popolata da poche decine di abitanti dell'etnia Geechees, discendenti delle popolazioni dell'Africa occidentale portate in schiavitù tra il 1700 e il 1800. Il regista offre il ritratto di un mondo prossimo alla sparizione, erede di una forma di società basata sull'autogesione e l'autosostentamento, in un racconto lirico dai toni crepuscolari ed evocativi.
Il concorso prosegue con The Whale from Lorino di Maciej Cuske, ambientato nell'estremo nord-est della Siberia, dove la controversa caccia alle balene è ancora oggi un'indispensabile garanzia di sussistenza per la piccola popolazione locale. Un film che ritrae con grande potenza visiva la vita di una comunità remota avvolta in una dimensione atavica, nella quale domina la tensione tra la rappresentazione sublime della ferocia e la dignità di un popolo in lotta per la propria sopravvivenza.
A seguire, il corto Progresso Renaissance di Marta Anatra, dove un gruppo di ragazzi trascorre l'estate tra la spiaggia e i sentieri di campagna, percorsi in sella alle loro biciclette. Sullo sfondo, le ciminiere del grande complesso industriale di Portovesme, simbolo delle tante promesse mancate che caratterizzano la storia del Sulcis Iglesiente. Un viaggio sospeso tra passato e presente che ripercorre l'epopea dell'industrializzazione di un territorio ferito attraverso lo sguardo incantato dei suoi giovani protagonisti.
C'è poi Fordlandia Malaise della portoghese Susana de Sousa Dias sull'ambizioso progetto ideato nel 1928 da Henry Ford, deciso a costruire una città nel cuore dell'Amazzonia con l'obiettivo di centralizzare la produzione del caucciù e rompere il monopolio britannico sulla coltivazione e il commercio della gomma. Oggi le rovine della città testimoniano il fallimento dell'utopia coloniale, in cui le tracce sul paesaggio si sovrappongono al passato delle popolazioni indigene, ormai completamente cancellato.
Con Space Dogs, la coppia di registi austriaci Elsa Kremser e Levin Peter segue alcuni cani randagi nei sobborghi di Mosca raccontando le peregrinazioni notturne lungo i viali deserti e la caccia al cibo nei cortili abbandonati, unica bussola direzionale attraverso il paesaggio post-urbano ripreso ad altezza d'animale. Un film che rinuncia allo sguardo antropocentrico e evita qualunque tipo di umanizzazione dei cani e lasciando che in essi emerga ciò che c'è di altro e inconoscibile, combinando il pedinamento del branco ai materiali d'archivio con gli esperimenti compiuti sugli animali spediti nello spazio.
Then Comes the Evening di Maja Novaković e Invisible Paradise di Daria Yurkevich sono due ritratti di comunità rurali, rispettivamente nella Bosnia orientale e in Bielorussia. Il primo ha per protagoniste due anziane donne che vivono in completo isolamento e a stretto contatto con la natura, prendendosi cura di sé reciprocamente e conducendo un'esistenza semplice, fatta di piccoli gesti quotidiani e in comunione con l'ambiente circostante. Attraverso canti e rituali, comunicano con le forze della natura per salvare il proprio raccolto dalla grandine e dalle intemperie, svelando il potere di antichi saperi senza tempo. Nel secondo le esistenze delle sorelle Yulia, Alesia e Olya sono scandite dai ritmi del mondo campestre, nonostante vivano pericolosamente vicine alla famigerata Zona di Esclusione di Chernobyl. La presenza della minaccia radioattiva si fa sempre più ingombrante nei discorsi degli adulti e nelle misteriose morti di tumore che continuano a scuotere la comunità, finché l'intera famiglia non sarà costretta ad abbandonare la campagna per trovare un nuovo alloggio in città.
In The Second Burial of Alejandrino del colombiano Raúl Soto Rodríguez, uno sciamano defunto appare in sogno alla moglie Teresa per chiederle di essere sepolto nuovamente nel suo villaggio natale e ricevere quelle onorificenze che non gli furono servite in occasione del funerale. Girato nei territori abitati dagli Emberá, una delle popolazioni indigene più numerose della Colombia, il film getta uno sguardo su un mondo in cui la linea che separa la vita e la morte appare rarefatta e confusa, e in cui l'osservazione antropologica del rituale si sposa con una dimensione misteriosa e sospesa.
Chiude il concorso No Kings della brasiliana Emilia Mello dedicato al popolo Caiçara, che mantiene e coltiva gli ultimi resti della foresta pluviale atlantica, e le cui tradizioni si basano su valori sostenibili provenienti dal Brasile, dal Giappone, dall'Africa e dall'Europa. In un luogo lussureggiante in cui la natura regna suprema, non troppo distante dalle luci elettriche e dalle rumorose autostrade di Rio de Janeiro, intagliare canoe e edificare case d'argilla è ancora una parte essenziale della vita della gente.
Ad inaugurare il Fuori Concorso, Faith di Valentina Pedicini, giovane regista scomparsa prematuramente lo scorso novembre. Ambientato in un monastero tra le colline marchigiane, il film racconta di una comunità che sperimenta una modalità di vita basata su un originale sincretismo tra dettami del monachesimo cristiano e pratiche shaolin delle discipline orientali. Il duro allenamento quotidiano, il ferreo isolamento dalla società, il rigore e l'osservanza della preghiera scandiscono giornate in cui i corpi scultorei degli adepti si preparano a diventare la fortezza contro la quale il male non potrà insinuarsi.
Tra gli altri film della sezione, Caterina di Francesco Corsi, sull'etnomusicologa Caterina Bueno, African Mirror di Mischa Hedinger, Solo di Artemio Benki e Res creata di Alessandro Cattaneo, sull'antico, contraddittorio e affascinante rapporto tra dimensione umana e animale, con un incipit sul litorale sardo di Platamona dove una balena rimase spiaggiata per settimane.
Nella sezione Camineras, alcune opere realizzate in Sardegna o da registi e registe sarde. C'è Padenti di Marco Antonio Pani, sull'estrazione del sughero nella foresta di Is Pranus; Il rito di Silvia Perra, sul rito magico e curativo de sa mexina de s'ogu nella piccola comunità agro-pastorale di Assolo; Ananda di Stefano Deffenu, diario di viaggio nella metropoli indiana di Bangalore alla ricerca di un'antica leggenda; infine Intre montes di Antonio Frascella, protagonista l'ex ergastolano Annino Mele.
Chiude il programma l'omaggio al cineasta cileno Patricio Guzmán, di cui si presenta la trilogia composta da Nostalgia della luce (2010), La memoria dell'acqua (2015) e La cordigliera dei sogni (2019). I tre film del maestro del cinema documentario, arrestato all'indomani del colpo di stato del settembre 1973 e poi fuggito dopo due settimane di detenzione nello stadio di Santiago, raccontano con passione e lucidità la storia di un paese sempre più immemore del proprio passato, riflettendo a fondo sul tema della memoria e della sua persistenza come atto politico.
Elenco dei film:
CONCORSO INTERNAZIONALE
Fordlandia Malaise di Susana de Sousa Dias (Portogallo, 2019, 40 min)
Invisible Paradise di Daria Yurkevich (Bielorussia, 2020, 52 min)
No Kings di Emilia Mello (Brazile, 2020, 88 min)
Progresso Renaissance di Marta Anatra (Italia, 2019, 19 min)
Sapelo di Nick Brandestini (Svizzera, 2019, 91 min)
The Second Burial of Alejandrino di Raúl Soto Rodríguez (Colombia, 2020, 78 min)
Space Dogs di Elsa Kremser e Levin Peter (Austria / Germania, 2019, 91 min)
Then Comes the Evening di Maja Novaković (Serbia /Bosnia Erzegovina, 2019, 28 min)
The Whale from Lorino di Maciej Cuske (Polonia, 2019, 59 min)
OMAGGIO A PATRICIO GUZMÁN
Nostalgia della luce di Patricio Guzmán (Francia / Germania / Cile, 2010, 90 min)
La memoria dell'acqua di Patricio Guzmán (Cile / Francia / Spagna, 2015, 82 min)
La cordigliera dei sogni di Patricio Guzmán (Cile / Francia, 2019, 85 min)
FUORI CONCORSO
African Mirror di Mischa Hedinger (Svizzera, 2019, 84 min)
Caterina di Francesco Corsi (Italia, 2019, 80 min)
Faith di Valentina Pedicini (Italia, 2019, 93 min)
Res creata di Alessandro Cattaneo (Italia, 2019, 80 min)
Solo di Artemio Benki (Rep. Ceca / Francia / Argentina / Austria, 2019, 84')
CAMINERAS
Ananda di Stefano Deffenu (Italia, 2020, 60 min)
Intre montes di Antonio Frascella (Svizzera / Italia, 2020, 22 min)
Padenti di Marco Antonio Pani (Italia, 2020, 24 min)
Il rito di Silvia Perra (Italia, 2020, 28 min)