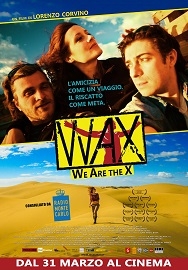 # Cos'è WAX. "WAX: We Are the X" è un'opera prima italiana in cui a esordire non è stato solo il regista ma anche il produttore, il direttore della fotografia, lo scenografo, il musicista, il casting director e altre professionalità. Sebbene di un esordio si tratti, la factory che ha lavorato al progetto, dopo aver reperito sponsor nazionali e internazionali e finanziatori attraverso il tax credit, non ha rinunciato ad affrontare numerose sfide, come riuscire a girare in quattro nazioni diverse, a 30.000 piedi di altezza su un aereo di linea nel cuore dell'Atlantico, in mezzo al deserto, su un treno francese del 1892 nel cuore della Provenza e persino sulla terrazza dell'Hotel Fairmont di Monte Carlo.
Il regista, il produttore e gli altri collaboratori hanno conquistato la stima di attori importanti come Rutger Hauer e Jean-Marc Barr, che hanno accettato di prendere parte al progetto trascinati dall'entusiasmo dei giovani attori italiani e francesi.
Il film narra le peripezie di un viaggio on the road, ed è stato interamente realizzato con la macchina da presa sempre in soggettiva; sul set, a tal fine, sono stati spesso impiegati gli smartphone, dando piena libertà d'espressione agli attori e sperimentando nuovi modelli di linguaggio e di fruizione per lo spettatore. "WAX" rappresenta, a tutti gli effetti, un "Self(ie)-Movie", nel duplice significato di film indipendente autoprodotto e di film che adopera una delle manie più in voga tra i giovani.
Il film presenta diversi registri narrativi, un vero e proprio crossover di generi, dal thriller al romanzo di formazione, dall'avventuroso al romantico, dal sociale alla commedia, dal drammatico all'animazione. È un'opera quanto mai attuale, tanto per i temi, come il confronto tra personaggi di culture europee diverse coinvolte dalla crisi finanziaria di questi anni, quanto per gli intenti, come quello di portare alla luce lo scontro generazionale – ormai non solo più italiano – della ricerca della propria dignità attraverso il lavoro. Infine, pone le basi per un dibattito che affronti la dialettica tra il concetto di sacrificio e quello di riscatto.
«Nei Paesi occidentali tutti i nati tra la fine degli anni '60 e i primi anni '80 appartengono a quella che viene comunemente definita Generazione X. Milioni di persone senza punti di riferimento o certezze per il proprio futuro. Oggi, gli ultimi di quella generazione hanno superato i trent'anni e in alcuni Paesi sono stati ribattezzati i "Sacrificabili"». (WAX: We Are the X)
# WAX in breve. Un "on the road" in soggettiva, un film di genere avventuroso-romantico, un piccolo thriller generazionale incentrato sulle peripezie di tre ragazzi, due italiani e una francese. Un film realizzato da ragazzi incazzati.
«Se siete nati dopo il 1970 e la Società non si è ancora accorta di Voi, questo film è la vostra vendetta!».
(WAX: We Are the X)
# Ménage à Trois. Prendiamo a esempio celebri ménage à trois del cinema: hanno tutti qualcosa di patologico o di escatologico: "Jules et Jim" si conclude con la morte, "Y tu mama tambien" si conclude con la morte di lei e una separazione, in "The Dreamers" si chiama in causa persino l'incesto. Nel caso di "WAX" il rapporto a tre è un punto di partenza, non l'inizio della fine. La differenza, rispetto a tanti modelli illustri è che, nel nostro caso, il triangolo non porta alla dannazione, alla disintegrazione della psiche, tutt'altro, conduce all'esaltazione del valore dell'amicizia e della solidarietà generazionale che eleva gli individui oltre il solipsismo della nostra epoca, verso una forza d'animo in cui il totale è veramente superiore alla somma delle singole parti.
«L'amicizia come un viaggio. Il riscatto come meta». (WAX: We Are the X)
# Girare in soggettiva con uno smartphone. Un film che si offre agli occhi dello spettatore come una sorta di "instant movie on the road", costruito sulle dinamiche di tre personaggi che per tutta la durata della storia non smettono mai di stare insieme, non può essere raccontato con la classica grammatica della macchina da presa oggettiva che, arbitrariamente, decide cosa e chi mostrare.
L'immedesimazione, o meglio ancora, la sovrapposizione tra lo sguardo dei protagonisti e quello dello spettatore è fondamentale per creare un'osmosi emotiva nel momento stesso in cui tutto accade.
Lo smartphone come risposta: uno strumento che chiunque adopera, che tutti conoscono e in cui tutti si riconoscono, utilizzato qui in modo improprio, ovvero come strumento di racconto, piegato al servizio di una comunicazione non telefonica ma filtrata da una pianificazione e da un'organizzazione del racconto, queste sì, prettamente cinematografiche.
Tutti abbiamo uno smartphone, tutti lo usiamo per comunicare, tutti carichiamo filmati sui social network o su Youtube realizzati con uno smartphone, ma nessuno ancora lo ha trasformato in uno strumento esteticamente maturo per raccontare emozioni sul grande schermo. Sia quando lo adoperiamo realmente sul set, sia quando vogliamo simularne l'impiego e adoperare l'estetica di tale ripresa a favore di un flusso di racconto immersivo.
«Qui dentro c'è del materiale video, tra cui telecamere di sorveglianza e i filmati coi loro cellulari. Sono prove concrete. Questo materiale fornisce informazioni mancanti sulla loro vicenda, è un link diretto coi tempi che viviamo, e va visto da una prospettiva più ampia». (Rutger Hauer in WAX: We Are the X)
# Una storia calata nella Storia. Il film si nutre dei temi epocali che l'Europa mediterranea affronta oggi, nel confrontarsi con l'area della Mitteleuropa, nel bel mezzo della crisi finanziaria. In un momento storico in cui lo scontro generazionale è stato del tutto palesato, c'è voluto un attore di un'altra generazione, Rutger Hauer, proveniente proprio da quel Nord Europa, per consentire a dei giovani filmmaker di concretizzare le loro ambizioni professionali (esattamente come accade nel film alle nuove leve che si affacciano al mondo del lavoro, qualunque esso sia): è inevitabile doversi confrontare con quello che le generazioni precedenti hanno lasciato, di giusto o sbagliato. Ogni essere umano, dal XX secolo in poi, nei Paesi occidentali, attraversa una fase della propria vita che si può definire Generazione X. Una fase di incertezze e di crocevia, tra una naturale attrazione verso il torpore dell'ingenuità e lo slancio rocambolesco verso il futuro ignoto. In "WAX", attraverso il racconto di tre vite, l'affabulazione si fa metonimia di un monito: attenzione a non saltare l'appuntamento con la nostra generazione, con l'occasione di guardarci dentro, ora che siamo in media res, nel pieno di un cambiamento epocale, di cui l'Italia si è trovata a essere, sembra incredibile a dirsi, precorritrice dei tempi, nel bene e nel male.
«Tutto questo riguarda la loro generazione e il loro futuro distrutto».
(Rutger Hauer in WAX: We Are the X)
Il film parla in modo provocatorio di tre giovani che "muoiono" per il lavoro, ma come si può morire di lavoro? E non c'è nulla di peggio che morire per qualcosa che ha il compito di darti la sopravvivenza, è un paradosso o peggio un ossimoro. E peggio che morire per il lavoro c'è il morire giovani per il lavoro. Ma non è un film di denuncia, è un film che vuole raccontare una storia persuasiva in un contesto che fa riflettere, senza rinunciare alla leggerezza, al gusto della sorpresa, alla spettacolarità, alla giostra dei sentimenti. La patinatura e la bellezza attorno ai protagonisti, fanno da contrappunto al disagio che vivono, il benessere che li circonda o con cui entrano in contatto per una settimana non gli appartiene, anzi più loro ne entrano in contatto, più lo iato, il gap, la delusione si faranno cocenti. Perché la loro delusione sia ben amplificata occorre lasciarli dentro a quelle amenità edonistiche ed esterne. Se vogliamo che lo spettatore colga veramente quanto sia forte per i protagonisti la delusione dell'inganno subito, occorre immergerli per una settimana nel sogno a portata di mano per poi sottrarglielo al culmine del loro piccolo traguardo raggiunto.
«Il fatto che non ci sia un assassino non significa che non ci sia un colpevole!».
(Rutger Hauer in WAX: We Are the X)
Lorenzo Corvino