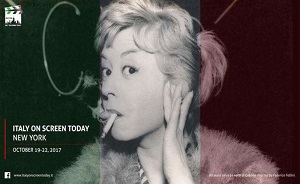 Italy on Screen Today New York
Un grande ed emozionante omaggio a Dario Fo, ad un anno dalla sua scomparsa e a vent'anni dal conferimento del Premio Nobel per la Letteratura: è quanto organizzato nelle giornate di domani e di venerdi 20 ottobre a New York, in occasione dell'Italy on Screen Today, la rassegna di cinema italiano - in programma da domani (18/10) al 22 ottobre - dedicata alle proiezioni di film di maggior successo al botteghino, dove attori e registi racconteranno al pubblico aneddoti e particolarità legate alle pellicole.
Durante il tributo a Dario Fo verranno proiettati il documentario Dario Fo e Franca Rame: A Nobel for two, diretto da Lorena Luciano e Filippo Piscopo e la pellicola Sweet Democracy, diretta dall'emergente Michele Diomà con la partecipazione straordinaria di Fo. I registi Lorena Luciano e Filippo Piscopo condivideranno con il pubblico il loro speciale ricordo di Dario Fo.
Italy on screen today la cui direzione artistica è affidata all'ideatrice Loredana Commonara, con il supporto di Giuliana Ridolfi Cardillo su New York e il coordinamento di Sarah Masten - avrà come scenario alcune location d'eccezione della "Grande Mela": il Proshansky Auditorium, la Casa Italiana Zerilli Marinò della New York University e la Stony Brook University.
Il progetto si realizzerà grazie al contributo del Ministero dei Beni e delle Attività Culturali e del Turismo, con il supporto del Consolato Generale d`Italia a New York, in collaborazione con RAI Cinema e le università John D. Calandra Institute, Casa Italiana Zerilli Marimo' - New York University e Stony Brook University sotto l'Alto Patrocinio del Parlamento Europeo e del MAECI. Presente alla conferenza di apertura (pianificata oggi, 18 ottobre presso il Consolato Generale d'Italia) anche Dario Franceschini, Ministro dei Beni e delle Attività Culturali e del Turismo.
Ospiti d'eccezione di questa seconda edizione di "Italy on screen Today" saranno l'attore e regista Sergio Castellitto che, venerdi 20 ottobre, introdurrà il film da lui diretto e interpretato – Non ti muovere, tratto dall'omonimo romanzo di Margaret Mazzantini ed il celebre autore della fotografia Vittorio Storaro, tre volte Premio Oscar® (Apocalypse Now, Reds e L'ultimo imperatore), attualmente impegnato sul set dell'ultimo film di Woody Allen.
Castellitto riceverà il "Nino Manfredi Art Excellence Award", per il valore della sua carriera: il premio, una grande novità in accordo con la famiglia Manfredi, sarà un modo di ricordare la figura di Nino, simbolo indiscusso del cinema italiano.
Storaro, la cui carriera professionale è corredata da incontri con alcuni dei più rilevanti cineasti di tutti i tempi, riceverà il Premio Vento d'Europa - Wind of Europe International Award riconoscimento che gode dell'Alto Patrocinio del Parlamento Europeo e conferito ad artisti simbolo della cultura continentale. Il Premio ispirato alla storia che vede come protagonisti figure intellettuali che posero le basi per un'Europa Unita, Altiero Spinelli, Ernesto Rossi, Eugenio Colorni e Ursula Hirschmann durante il loro confino trascorso a Ventotene, piccola isola del Mediterraneo.
La serata sarà presentata dalla modella e attrice Eleonora Pieroni.
Tra le maggiori novità presenti in questa seconda edizione di "Italy on screen Today" ci sarà anche MigrArti, il bando ideato e sostenuto proprio dal Ministero dei Beni e delle Attività Culturali e del Turismo per la promozione di progetti cinematografici dedicati alla valorizzazione delle culture delle popolazioni immigrate in Italia, nell'ottica dello sviluppo, del confronto e del dialogo interculturale.
Paolo Masini, ideatore e coordinatore di MigrArti e consigliere del Ministro Dario Franceschini, introdurrà al pubblico sette cortometraggi: La Recita (Premio MigrArti Cinema 2017 - Miglior Film), Ambaradam, L'amore senza motivo, La macchia, Nella Yugosfera, Sara, La giraffa senza gamba - presentati nel corso della 74. Mostra Internazionale d'Arte Cinematografica di Venezia, incentrati su storie di vita e di diverse culture che vivono il processo di integrazione nel tessuto sociale del nostro Paese, tracciando uno spaccato dei "nuovi italiani". Andrea Bartoli, rappresentante della Comunità di Sant'Egidio presso l'ONU, interverrà sull'argomento portando l'esperienza del lavoro che la Comunità svolge in tutto il mondo.
Il 21 e 22 ottobre presso la Stony Brook University di Long Island verranno proiettati altri lungometraggi: Venuto al mondo di Sergio Castellitto, Il padre d'Italia secondo lavoro di finzione di Fabio Mollo con Luca Marinelli e Isabella Ragonese; La corrispondenza, ultima opera di Giuseppe Tornatore che ha per protagonista Jeremy Irons; il pluripremiato e apprezzato da pubblico e critica La pazza gioia di Paolo Virzì; La stoffa dei sogni di Gianfranco Cabiddu David di Donatello per la Miglior Sceneggiatura e Globo d'oro per Miglior Film; Tutto quello che vuoi di Francesco Bruni con Giuliano Montaldo nei panni di un anziano smemorato che vivrà una speciale amicizia con un giovane impertinente.
Durante la serata di venerdi 20 ottobre, saranno consegnati dei riconoscimenti a tre eccellenze italiane negli Stati Uniti: Fabrizio Ferri – noto fotografo che, insieme a Bulgari, ha sostenuto la campagna di "Save the Children", #Raise your hand; Domenico Vacca - celebre stilista delle star di Hollywood; Fabio Granato – grande imprenditore nel campo della ristorazione, famoso per i Serafina Restaurant.