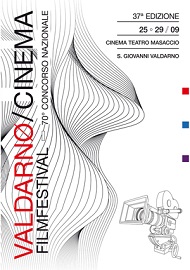 Questi i film selezionati alla trentasetytesimaedizione di
ValdarnoCinema Film Festival
, in programma al Cinema Teatro Masaccio di San Giovanni Valdarno (AR) dal 25 al 29 settembre 2019:
Concorso Lungometraggi
. Dafne di Federico Bondi
- Selfie (Doc) di Agostino Ferrente
- Normal (Doc) di Adele Tulli
- Ovunque Proteggimi di Bonifacio Angius
- La nostra pietra (Doc) di Alessandro Soetje
- L'ospite di Duccio Chiarini
- In viaggio con Adele di Alessandro Capitani
- Il pittore della tenda (Doc) di Renato Lisanti
- Be Kind (Doc) di Sabrina Parravicini e Nino Monteleone
Concorso Cortometraggi
- Amici comuni di Marco Castaldi
- Noi soli di Francesco Alessandro Cogliati
- Aleksia di Loris Di Pasquale
- Sadok di Geraldine Ottier
- Tempo di cambiare di Maryam Rahimi
- Aggrappati a me di Luca Arcidiacono
- All this creatures di Charles Williams (Palma d'oro miglior cortometraggio al Festival di Cannes 2018)
- The role di Farnoosh Samadi
- Manica a vento di Emilia Mazzacurati
- Mira mi alma (DOC) di Gianlorenzo Atten
Queste le opere di
Spazio Toscana
, sezione non competitiva del festival_
Lungometraggi
- i ragazzi di San Frediano di Giulia Lenzi e Sofia Milazzo
- Storie di altromare di Lorenzo Garzella
- L'anarchico venuto dall'America di Daniele Cecconi
Cortometraggi
- Tabula rasa di Mark Petrasso
- Metamorfosi dell'Anima di Rita Carioti
- Moon on fire di Pierfrancesco Bigazzi
- Matilde di Vittoria Spaccapietra
- Fata Burgina di Piero Torricelli
Una giuria di qualità, i cui nomi saranno a giorni comunicati, assegnerà i seguenti premi ufficiali:
- Premio Marzocco, simbolo della Città di San Giovanni Valdarno, intitolato a Marino Borgogni, del valore di 1.000 euro, al miglior film in assoluto;
- Premio alla migliore interpretazione maschile; corti e lunghi;
- Premio alla migliore interpretazione femminile; corti e lunghi;
- Premio "Amedeo Fabbri" alla miglior fotografia; corti e lunghi;
- Premio "Luciano Becattini" al miglior montaggio; corti e lunghi;
- Premio alla miglior colonna sonora; corti e lunghi;
- Premio "Banca del Valdarno" al film capace di mettere in risalto i valori della cooperazione e della solidarietà;
- Premio "A.N.P.I." al film capace di rappresentare i valori storici e ideali dai quali è nata la Costituzione della Repubblica Italiana;
- Premio "Franco Basaglia", del valore di 300 euro, al film che meglio rappresenti le tematiche della salute mentale nel nostro presente in Italia e nel mondo;
- Premi del pubblico, assegnato dagli spettatori e dai partecipanti dei nostri workshop; sezione per sezione, corti e lunghi; assoluto;
- Premio del Cineclub Sangiovannese assegnato al miglior film presente nel programma del festival;
- Premio Diari di Cineclub assegnato dalla redazione del periodico.

06/08/2019, 09:01
Simone Pinchiorri